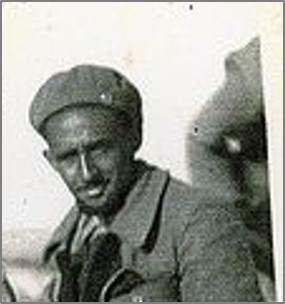 Biography
Borges Aldama, Norberto.
(Aldama Borges; Borges y Oldama, Norberto); b. January 18, 1907 (January 8, 1908), Havana; Cuban; No prior military service; In 1927 attended José Martí University (founded by Julio Antonio Mella – later closed by the Machado regime); Moved to New York in 1928; Married; Domicile 5th Avenue, 116th Street, NYC; Tobacco Worker, Food worker, and Printer; Julio Antonio Mella Club, and YCL December 27, 1936, Spanish CP November 1, 1937; Sailed January 5, 1937 aboard the
Champlain
; Arrived in Spain January 14, 1937; Served with the XV BDE, Lincoln BN, Co. 1, Centuria Antonio Guiteras; Became Section Commissar after Landeta was injured in an accident; Hospitalized at Murcia in May 1937 for a gastric ulcer; After recovery he took position as adjutant commander of the 1st Company of instruction at Tarazona de la Mancha working with the Spanish Captain Valdes; Rank Teniente; Repatriated in May 1938, he had trouble returning to the US because he had no passport; Returned to the US in 1938 and was initially refused entry and had to be hospitalized; CP representatives obtained an entry visa; Worked for the "July 26" anti Batista organization in New York; Returned to Cuba in 1961 and worked in the Merchant Marine; Retired in 1974, spoke English, Italian and Spanish.
---
Sources:
Sail; Cadres (under Borges, Norberto); Americans; Inventory North Americans; Repatriation List (1/29/1938, ll. 99); RGASPI (under Borges, Norberto) Fond 545, Opis 6, Delo 587, ll. 53-57 (ll. 57 is a letter requesting repatriation); USSDA 852,221/233; Grados Militares Alcanzados Por los Cubanos en los Tres Años de Guerra, ABBI. Alfonso Bello and Pérez Díaz; Vera Jimenéz; Baumann; Ancestry; SIDBRINT.
---
Photographs:
Norberto Borges Aldama on the right. Left is Oliver Law and center unidentified, Jarama Front, 1937. Norberto Borges Aldama, Albacete #137, CEDOBI.
---