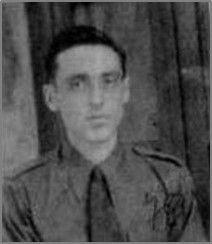 Biography
Freidberg, Saul b. October 16, 1912, Bronx, New York; Jewish; Attended Harvard September 1933-June 1936; Married; Student and Mechanic; CP 1936, YCL 1933 [Organizer YCL at Harvard], and Spanish CP; Received Passport# 3654438 on February 4, 1937 which listed his address as 8052 Muskegon, Chicago, Illinois and 382 Summit Avenue, Cedarhurst, Long Island, New York (4934 S. Ashland, Chicago, Illinois); Sailed May 29, 1937 aboard the Britannic; Arrived in Spain via Massanet on June 16, 1937; Served with the XV BDE, Washington BN; OTS; Instructor; Lincoln-Washington BN; Mackenzie-Papineau BN, Company Commander; WIA Segura de los Baños and again at Gandesa; Returned to the US on December 20, 1938 aboard the Ausonia; WWII US Navy, stateside service; d. May 15, 2000, Brookhaven, New York.
---
Sources: Sail; Scope of Soviet Activity; Cadre; Figueres List; XV BDE; RGASPI; (obituary) The Volunteer, Volume 22, No. 3, Summer 2000, p. 20; L-W Tree Ancestry.   Code A
---
Obituary: During his first year at Harvard Law School, Saul participated in protests against a German ship that flew the swastika, for which he was beaten and arrested, and became hooked on political action. He joined the Young Communist League and on graduation, instead of going into law, he went into the Chicago steel mills to organize the workers. Trained as a sniper, he served with the MacKenzie-Papineau battalion and was wounded at both Teruel and the Ebro. After returning home, he was unable to pursue the law. The character committee of the bar association would not approve him because of his service in Spain. He also had difficulty gaining entry into the U.S. military during World War II, though he enlisted in the navy as an electronics trainee. He later practiced law in New York. After retirement, he remained active in political movements, including the Nuclear Freeze ballot proposition in Suffolk County. He was an enthusiastic supporter of the new Labor party and was involved in the Suffolk Health Advisory Committee, which defends local health centers for low-income people. Saul Friedberg, lawyer and activist, died May 15, 2000, at 87.
---
Photograph: Saul Friedberg in Spain, RA Fond 545, Opis 6, Delo 892.