NEW YORK ANNUAL CELEBRATION & SECOND ALBA/PUFFIN AWARD FOR HUMAN RIGHTS ACTIVISM
Sunday, May 13, 2012
Features the presentation of the second ALBA/Puffin Award for Human Rights Activism to Kate Doyle and
Fredy Peccerelli and the second ALBA/Puffin Student Activism Award.
Music of the Spanish Civil War by Bruce Barthol, with Hillary Gardner, Liberty Ellman, Kenny Kocek & Emilio Solla.
Reception to follow.
Museum of the City of New York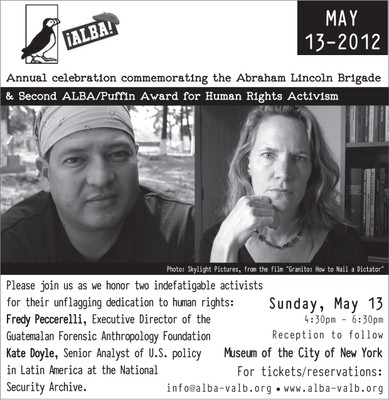 Pre-event Benefit
Sunday, May 13, 2012
1:30pm – 4:00pm
Museum of the City of New York
Starts with an insiders tour of the newly inaugurated Puffin Gallery for Social Activism — which features a plaque commemorating the volunteers of the Lincoln Brigade.  Followed by a round-table discussion on "Accountability after Mass Atrocity: the Latin American Example," with the two winners of this year's ALBA/Puffin Human Rights Activism Award, alongside prominent experts on Latin America.  Includes a light buffet, and priority seating at the annual celebration.
BAY AREA ANNUAL CELEBRATION
---
Guest speaker Kate Doyle, 2012 recipient of the ALBA/Puffin Human Rights Award, discusses genocide and justice in Guatemala. The program also includes an update on former Spanish judge Baltasar Garzón, an outspoken champion of human rights. Musicians Bruce Barthol, Velina Brown, Randy Craig, Tony Marcus, and Barrett Nelson perform songs of the Spanish Civil War. More information here, buy tickets here.
Sunday, May 27, 2012
2:00pm
Berkeley, California