ALBA was pleased to host an outdoor in-person event at our San Francisco Monument to the Abraham Lincoln Brigade. Thank you to everyone who joined us in person, and who followed the current Covid safety protocols. The event began as members of the ALBA community arrived at Embarcadero Plaza midday on Sunday, August 22nd. It was a joy to be able to gather with our great Bay Area community.
Event co-organizer Richard Bermack and Dennis Meaney from ALBA's New York office opened the event with a statement of thanks to all who attended and a call to continue to connect with ALBA for future events. Singer-songwriter and longtime friend of ALBA Bruce Barthol then performed Viva la Quince Brigada and Jarama Valley leading the attendees in song. We were then joined by Dr. June Gipson, President of My Brother's Keeper (MBK), the winner of the 2021 ALBA/Puffin Human Rights Award. Dr. Gipson and the communications director for MBK, Deja Abdul-Haqq gave moving speeches to the assembled crowd. Event co-organizer Martha Jarocki, then invited members of the community to place a carnation on the monument and make a remembrance dedication to the brigade. The ensuing remembrance ceremony was both joyous and moving.
The ceremony then concluded, and our group adjourned to the neighboring park where there were light refreshments and much-needed socialization. Cinematographer Vicente Franco conducted spot interviews with attendees that will appear in a video product soon. Thanks again to all who attended and please stay tuned to alba-valb.org for future programming.
---
Broadcasted Live from ALBA's Facebook Page

The event lineup included 
Legendary folk singer Barbara Dane in conversation with former SF Mime Troupe Musical Director and Spanish Civil War bard Bruce Barthol talking about music as a force for activism.
Robin D.G. Kelley on the Spanish Republic and the United Front and what they mean for today's activists.
June Gipson and Deja Abdul-Haqq of My Brothers Keeper on health care activism and community organizing
Footage from our recent Gathering at the Monument to the Abraham Lincoln Brigade on the Embarcadero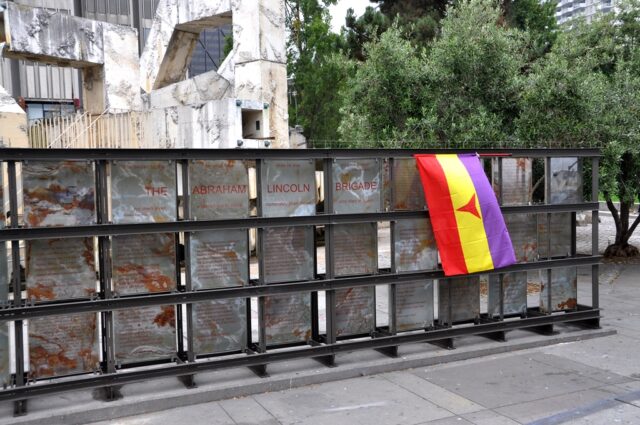 ---
ALBA Online San Francisco Monument Celebration:
Check Out Our ALBA Online San Francisco Monument Celebration. Broadcasted Live on September 12th. 
The event lineup included Isabel Allende, Bill Fletcher, Walter Hood, and other special guests. 
---
The San Francisco Monument
Dedicated on March 30, 2008, the Abraham Lincoln Brigade Monument, 40 feet long and 8 feet high, is located near the Vaillancourt Fountain on the Embarcadero, not far from San Francisco's Ferry Building. Forty-five onyx panels are held together by a steel structure. The translucent stone squares show scenes from the war and the faces of some U.S. volunteers in the Spanish Civil War (1936-1939), as well as words about the period from writers like Ernest Hemingway.
It was designed by Ann Chamberlain and Walter Hood, and it was donated by the Abraham Lincoln Brigade Archives and Veterans and Friends of the Abraham Lincoln Brigade.
Restoration
Our national monument has been restored!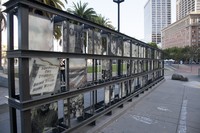 Your contribution will ensure that thousands of citizens continue to be reminded of the brave sacrifice of those Americans who volunteered to defend the Spanish Republic against fascism during the 1930s.
Please donate here and keep this monument to progressive heritage alive.  Or you can mail a check payable to ALBA to 239 W 14th Street, Suite #2, New York, NY 10011.
Monument Dedication Speech by Peter Glazer, March 30, 2008
Making History Matter

We live in difficult and dangerous times. Most of us here today live in a country, this country, where one major party vies unapologetically for its radical right-wing constituency, panders to its reactionary whims, yet the other major party must avoid even naming, or having clear public affiliation with the Left, as though the people in this room, and so many like us, don't exist. We live in a time when the Right in America has attempted to appropriate patriotism, as though dissent was ever unpatriotic, as though these men and women before me weren't defending rights and values at the core of our democracy. We live in a time where our national kin–4000 and climbing–have died in a war begun on wholly false pretenses and pursued with the blindness and arrogance only the blithering Bush and his vicious cronies could come up with, a war beyond reason. We live in a day and in a land where the gap between the rich and the poor is ever-widening, where almost one quarter of the world's prisoners sit in our jails. And we move towards an election where a presumptive candidate boasts of a hundred year war in Iraq. Clearly, there is great work to be done.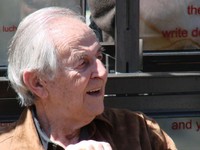 Why, on this momentous day, do I speak of such trouble? Because people need your history, and your history is in danger. We all know there was a time when the Left was a visible and undeniable voice in American political discourse; when to imagine a better, saner, more just and peaceful world of people more equal and more free could not be, would not be put down, and to hold those beliefs, and act on them, was full of hope and possibility; and a time when the gross injustice of a military coup against a democratic government, and fascist collusion and collaboration in that coup, was met with outrage across this country, and many thousands of men and women stood up against Franco's revolt, on the home front, and also, of course, in Spain. During the Spanish Civil War, an American volunteer asked a Spanish anarchist if he hated the International Brigades. "How can we hate you," he answered, "who come from a rich country to a poor country to give your lives for an idea!"  Actions like that make history, and as millions of people walk the Embarcadero today and in decades to come, this monument will make its own kind of history, because it will stop them in their tracks and tap them on the shoulder and say . . . "Here is something important, here is something beautiful and tragic and essential, something you must know, that once upon a time in the 1930s, men and women came from a rich country to a poor country and gave of their lives for an idea."
For years, the Veterans of the Abraham Lincoln Brigade, and the Abraham Lincoln Brigade Archives have been working to protect this impossibly important history, but there's always been the risk of preaching to the choir, to the converted. Likely none of you need to be told the story of Spain. And yes, this monument serves you, gives us all a place of memory, honors the American volunteers, is humbled by the men a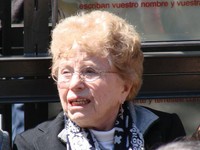 nd women still with us here today, their families and loved ones, and those who lie so honorably in the Spanish earth. But I have to tell you something – this monument is not for us. It is more for the people outside these doors; it is for decades of passersby, who will come upon history on the Embarcadero. We don't need this monument as they do. They need this past, and by looking back, the may march forward with confidence and strength.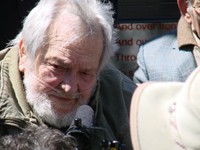 This monument was not created without controversy. There are people who are not here today because they object to this monument, and people present who wish deeply in their hearts that it was different. Those feelings are real and must be respected. Every single person in this room has this war in them, somewhere, and how they see it and what it means to them is theirs and only theirs. But as soon as a monument is designed and built trying to capture history and honor memory, it fails. It fails because memory is not made of words and photographs and onyx and steel; memory lives in us, and is unbounded in its richness and depth. Monuments have edges, hard edges, and those edges hold some things in and close others out. Monuments are finite, and our individual and collective memories are infinitely complex and multi-faceted. But we live in dangerous times. As Abe Osheroff said at today's unveiling, the stuff the veterans are made of will never go away. But your history–of progressive action, of idealism and possibility–is at risk, could be lost forever. You are all doing everything you can to prevent that. This monument, though, can do something you can't–flawed, edged, and finite as it is, it can reach more people than you can speak to in a lifetime, catch them with an image; reach them with words, tease them with an idea, call them into history, offer them hope and a new way to think about the world. Monuments are flawed attempts to present and evoke a history but we have no choice, because we dare not let this moment go.
This wall of ideas is not only a wall but also a door, a way in. And the fact of its presence in public space, its scale, its substance, the concentrated effort manifest in its structure makes an indelible mark in the landscape, and in the public imagination. This history matters, it argues; it deserves your attention; it is real.
As a commemorative body, we must not preach only to the choir. "An active transmission of memory requires. . .a broadening of the 'we'," it has been written. The "we" who must "remember" has to be broadened. More people must feel that urgency, that desire, that commitment, those ideas that have defined this community for over 70 years. We have "to come to grips with the Necessity that [the] past represents."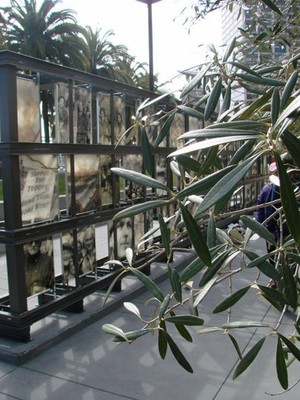 The poet Langston Hughes, who went to Spain reporting on the war for a black newspaper, wrote a poem for Eddie Rolfe, a volunteer and a poet himself. Langston Hughes's words mark the onyx on the Embarcadero. "Poet on the battlefront of the world," he wrote to Rolfe, "what does your heart hear? What poems unfurl bright banners made of words with red wings to fly over the trenches, and over frontiers, and over all barriers of time, through the years, to sing this story of Spain on the ramparts of the world?"
I think I can speak for the makers of this monument–its devoted, brilliant designers Anne Chamberlain and Walter Hood, its generous funders, the tireless local monument committee, and ALBA–and say that that is our fervent hope: that over frontiers, and over all barriers of time, that it will sing this story of Spain on the ramparts of the world.
Thank you.
Peter Glazer is a member of ALBA's Board of Governors and the author of Radical Nostalgia and co-editor with Peter N. Carroll of War is Beautiful: Journal of an American Ambulance Driver in Spain 1937-1938 (New Press, 2008).
---
Dedication Video
Monument Dedication, March 30, 2008
Hundreds of supporters were in attendance at the Abraham Lincoln Brigade monument dedication, including nine veterans.
Veterans in attendance were Abe Osheroff, David Smith, Abe Smorodin, Matti Mattson, Clarence Kailin, Hilda Roberts, Virginia Malbin, Carl Geiser, Ted Veltfort, and Hank Rubin.
---
Press
Articles and commentary about the ALBA Monument
* San Francisco Chronicle
War Heroes' late Honor: U.S. finally salutes troops who fought Franco, decades after they were bloodied, blacklisted
Juliana Barbassa, Associated Press – April 27, 2008
As Spain shrugs off the last cobwebs of Gen. Francisco Franco's fascist regime 70 years after it hatched amid civil war, Americans are also looking back, honoring their own who fought there and the ideals for which they stood.
---
* San Francisco Chronicle
Monument to Lincoln Brigade unveiled
Cecilia M. Vega and Carl Nolte – March 31, 2008
David Smith was a young college student with no military training when he shipped off to Spain to fight in the brutal Spanish Civil War.
On Sunday, a throng of Bay Area history buffs gave him a standing ovation and shouted "Viva Dave!" as the now-92-year-old Berkeley resident teared up and pumped his fist in the air at the unveiling of San Francisco's newest public monument: a memorial to soldiers who fought in the lost war more than six decades ago.
---
* San Francisco Chronicle
Memorial first in U.S. for Lincoln Brigade
Carl Nolte – March 29, 2008
San Francisco's newest public monument – a memorial to soldiers who fought in a lost war long ago – is to be unveiled in a public ceremony at 1 p.m. Sunday.
The monument honors veterans of the Abraham Lincoln Brigade, Americans who fought in Spain against the forces of Gen. Francisco Franco in the Spanish Civil War. About 2,800 Americans fought against Franco's forces in an international force – the celebrated Abraham Lincoln Brigade.
---
The latest piece of public art on San Francisco Port land will likely stand 7 feet high and span 30 feet, honoring the Bay Area Veterans of the Abraham Lincoln Brigade.
The San Francisco Port Commission is expected to vote Nov. 14 on whether to allow the artwork's installation near the east wall of the Vaillancourt Fountain at Justin Herman Plaza. It would be only the third monument to the Abraham Lincoln Brigade in the United States.
---
Visit the Monument
The monument is located at the San Francisco Embarcadero, across from the historic Ferry Building.
Directions:
Public Transportation
The Ferry Building is served by public transportation: MUNI, Golden Gate Transit, BART and F Train. Ferry service is available with Golden Gate Ferry, Blue and Gold Fleet and Bay Link Ferries.
For more information, visit www.sfport.com.