Volunteers for the International Brigades came from over 50 countries across the world to help the beleaguered Spanish republic, many of them with bitter experiences of fighting against fascism and with personal scores to settle. Over 35 000 men and women left their homes to volunteer for the Republican forces, the majority of whom served in the International Brigades and international medical services.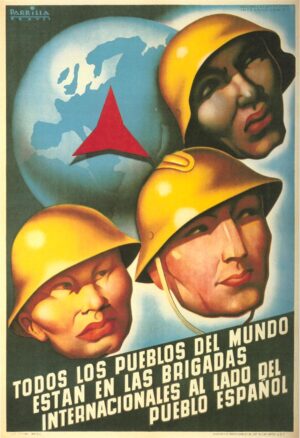 The largest single contingents came from France, Germany, Poland and Italy, though many also came from other European countries, including Britain and Ireland, Scandinavia, Hungary, Yugoslavia and Czechoslovakia. Other volunteers endured long journeys from as far away as the USA (including a number of African-Americans), Canada, Mexico, Cuba, South America, South Africa, Australia and New Zealand. Jewish volunteers comprised a significant minority.
The International Brigades were recruited and organised by the Communist International (the Comintern), which was quick to respond to the influx of foreign volunteers for the Republic. For Stalin, who was concerned at the extent of German and Italian help for the rebels and its potential severely to weaken France, the International Brigades offered an opportunity to support the Spanish Republican Army without intervening directly, and thus reducing the risk of further alienating Britain and France who had established an international non-intervention agreement to limit foreign involvement in the war.
The recruitment of the International Brigades was coordinated by the Communist Party in Paris. The usual route for volunteers was to be smuggled in groups over the Pyrenees. From the border they would be taken the International Brigade headquarters at Albacete, where volunteers would be processed and divided up by nationality, into the different battalions comprising the Spanish Republican Army's International Brigades.