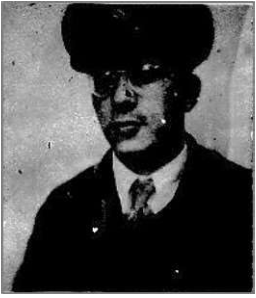 Biography
Hilkevitch, Aaron Arthur Dr
(Hill, Phillip); b. May 25, 1912, Odessa, Russia; Russian American; AMB; Father Benjamin Hilkevitch (1887-?), mother Rosa Hilkevitch (1888-?); University of Illinois, School of Medicine 1932-1936; No prior military service; Married Rhea Hilkevitch; Psychiatrist; YCL, CP November 1935 (1936), Spanish CP; Received Passport# 481887 on October 23, 1937 which listed his address as 1713 Humboldt Boulevard, Chicago, Illinois; Sailed October 28, 1937 aboard the
Ile de France
; Arrived in Spain on November 9, 1937; Served with the Republican Medical Service, Attached to various hospitals at Front; WIA September 7, 1938 Gandesa Front then to Hospital in Vich; Returned to the US on September 18, 1938 aboard the
Statendam
; WWII US Army, Medical Service, stateside; Married Rheg Hilkevitch; d. October 4, 2008, Chicago, Illinois.
---
Siblings: brother Alexander Hilkevitch.
---
Sources: Sail; Scope of Soviet Activity; Cadre; RGASPI Fond 545, Opis 6, Delo 910, ll. 14-21; (obituary) The Volunteer, Volume 25, No. 4, December 2008, p. 21.
---
Obituary: Aaron Hilkevitch, who served as a medical doctor in the Spanish Republican Army during the civil war and was the last surviving Illinois member of the Abraham Lincoln Brigade, died in Chicago on October 4. He was 96. Specializing in psychiatry, Aaron practiced in Chicago for over 50 years, merging his professional work with a distinctly left political point of view. "Dr. Hilkevitch saw psychoanalysis as a route to personal freedom and integrity," said a former colleague, Dr. Robert Galatzer-Levy. During the Vietnam War, he was sympathetic to draft-age men seeking deferments, provided free services for poor patients, and was arrested at a protest demonstration supporting a free local clinic. Aaron was born in Odessa, Russia, but he left his homeland with his family when the Bolsheviks rose to power in the 1917 revolution. Eventually settling in Chicago, he joined the Young Communist League and received a bachelor's degree from the University of Chicago and a medical degree from the University of Illinois. In Spain, Aaron provided surgical services for wounded soldiers. During World War II, he enlisted in the U.S. Army and worked as a chief of psychiatry stateside. Dr. Hilkevitch also taught and worked with residents at the University of Chicago Hospitals for many years. While his successful practice allowed him to lead a comfortable life, aversion to capitalism guided almost all of his actions. "Not a penny in the stock market," his daughter Victoria remembered.
---
Photograph: Dr. Aaron Arthur Hilkevitch in Spain, RGASPI Fond 545, Opis 6, Delo 910.