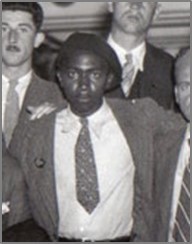 Biography
Johnson, Aaron Bernard b. November (December) 18, 1912, Greenville, Mississippi; African American; Father Charles Johnson, mother Anna Chase; Attended college for 2 years; Single; Mechanic, Mechanical dentistry, and Sheet Metal Worker; CP 1933, County Committee; Received Passport# 26291, San Francisco series, on April 6, 1937 which listed his address as 3843 Adair Street, Los Angeles, California (1133 E. 51st Street, Los Angeles, California); Sailed April 28, 1937 aboard the President Harding; Arrived in Spain via Espolla on June 26, 1937; Served with the XV BDE, Mackenzie-Papineau BN, MG Co., WIA at Fuentes de Ebro; Attended OTS; Deserted from a hospital to the front during the Retreats; Returned to the US on July 20, 1938 aboard the Champlain; d. September 25, 1941, Los Angeles, California, buried in Evergreen Cemetery, Los Angeles, California.
---
Source: Sail; Scope of Soviet Activity; Cadre; Mac-Paps; Figueres List; XV BDE; RGASPI Fond 545, Opis 6, Delo 917, ll. 11-13; African Americans; (obituary note) The Volunteer, Volume 4, No. 2, April 1942; L-W Tree Ancestry; Find-a-Grave #204375676. Code A
---
Biography:  Aaron Bernard Johnson was born in Greenville, Mississippi, on December 18, 1912. He lived in Los Angeles where he attended college and later worked in mechanical dentistry. Johnson joined the Communist Party in 1933. Johnson left for Europe, aboard the President Harding, on April 28, 1937. In Spain Johnson trained and served with the Mackenzie-Papineau Battalion in a machine gun company. Wounded in action, Johnson quickly recovered and was sent to officers' school in January 1938. After he contracted tuberculosis he had to be hospitalized again. During the Retreats as the Republican Army's lines collapsed Johnson volunteered to return to the front and served during the second stage of the Retreats and was among the volunteers who made it back across the Ebro River. Johnson was repatriated along with twenty-six other wounded American volunteers during the summer of 1938. The group sailed on the Champlain and docked in New York on July 20, 1938. Johnson and others spent months at a resort in the Catskills Mountains where they underwent treatment. The Friends of the Abraham Lincoln Brigade paid the bills. After a short stay in New York, Johnson returned to California. He found a job with United Electric working in an aircraft plant. Johnson also taught courses at the local CP Workers School. He was active in the Los Angeles post of the VALB. In 1940, Johnson was elected national Adjutant Commander of VALB. A relapse of tuberculosis prevented him from undertaking the associated duties. He died in 1940 in the home of his friend and fellow veteran, Frank Alexander. Veterans from the Los Angeles VALB Post buried Johnson with military honors. ~ Chris Brooks
---
Photograph: Aaron Johnson from a photograph of returning volunteers aboard the Champlain, July 20, 1938, VALB/ALBA.