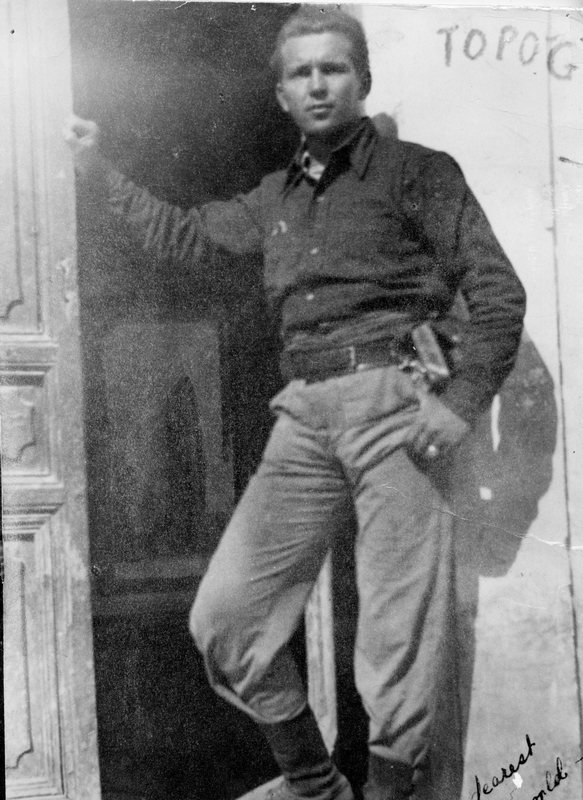 Biography
Osheroff, Abe 
b. October 24, 1915, Brooklyn, New York; CoB; Russian American; Jewish; Father Louis "Louie" Osherow (1892-1977), mother Sarah Osherow (1894-1984); Graduated from the City College of New York, BA; Single (Married); Student, YCL 1933 (1932), branch organizer, ASU; Received Passport# 392715 on April 17, 1937 which listed his address as 468 Chester Street, Brooklyn, New York (10-97 Winthrop Street, Brooklyn, New York); Sailed April 24, 1937 aboard the
Vollendam
; Arrived May 30, 1937 after surviving the sinking of the
City of Barcelona
; Served with the XV BDE, Mackenzie-Papineau BN during training; Sent to Lincoln-Washington BN as a replacement; WIA October 13, 1937 Fuentes del Ebro, hit in the knee; After recovery served as an instructor in topography at Tarazona; Returned to the US on July 2, 1938 aboard the
President Harding
; WWII US Army, enlisted April 2, 1942, Infantry, ETO, Rank SGT; Married Sylvia Epstein (1920-2006) June 29, 1940 in NYC, son Carl Osheroff (1943-?); Married Dorthy "Claire" Rosenbaum (1924-2002) circa 1948 NYC; Married Noel Oliver (1930-?) August 4, 1962 Los Angeles, California, one daughter Sarah Osheroff (1962-?), son Dov Osheroff (1964-?) divorced May 1972; Married Susan B. Johnson (1946-?) April 20, 1980; Married Gunnel T. Clark (1937-) circa 1989; d. April 6, 2008, Seattle, Washington, cremated.
---
Sibling:
sister Ruth Osherow (1921-2006).
---
Sources:
Sail; Scope of Soviet Activity; Cadre; RGASPI Fond 545, Opis 6 Delo 958, ll. 51-52; Good Fight A, B, C, I & Z; Producer Dreams and Nightmares and Art in the Struggle for Freedom; Len Levenson, "From Benicasim, to Brownsville, to Seattle,"
The Volunteer
, Volume 21, No. 2, Spring 1999, p. 21; (obituary) Robert Jensen, "Abe Osheroff, 1915-2008,"
The Volunteer
, Volume 25, No. 2, June 2008, pp. 19-20. Code A
---
Biography:
Abe Osheroff was born in Brooklyn in 1915. He was a neighborhood activist at sixteen, a student activist at City College, and then did some organizing for the CIO. He went to Spain in 1937. On his return he was a union organizer, headed the Communist Party's Jewish Commission, and worked in the South. He is a carpenter by trade and has helped build housing in Nicaragua. He has also made two documentary films on the Spanish Civil War:
Dreams and Nightmares
(1974) and
Art in the Struggle for Freedom
(2000).
---
Abe Osheroff Interview,
August 27, 1980; John Gerassi Oral History Collection; ALBA.AUDIO.018; box number 1; folder number;s 18-156 to 18-157, Tamiment Library/Robert F. Wagner Labor Archives, New York University.
---
Photographs:
Abe Osheroff. Photographs courtesy Abe Osheroff; Abe Osheroff, April 26, 1997, by Richard Bermack.
---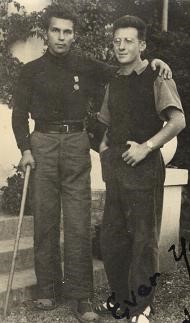 a