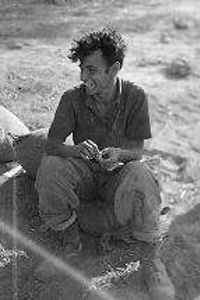 Biography
Smorodin, Abe
. b. September 12, 1916; Jewish; Attended Boy's High School in Brooklyn, New York; Single; Light metal Worker and Clerk; CP 1935, YCL 1933, and Spanish CP; Sailed in 1937 aboard the
Statendam
; Arrived in Spain via Massanet on June 19, 1937; Served with the XV Brigade, Mackenzie-Papineau Battalion, Runner; Rank Sargento; Returned to the US on December 20, 1938 aboard the
Ausonia
; WWII Armed Forces; d. April 8, 2008, NYC; Married Rose Mendlowitz, sister of Leo and Joseph Mendlowitz.
---
Sources:
Cadre; Figueres List; Pay; (obituary) Fraser Ottanelli, "Abe Smorodin, 1916- 2008,"
The Volunteer
, Volume 25, No. 2, June 2008, p. 23.
---
Photographs:
Abraham Smorodin, Mackenzie-Papineau, August 1938. The 15th International Brigade Photographic Unit Photograph Collection; ALBA Photo 11; ALBA Photo number 11-0232. Tamiment Library/Robert F. Wagner Labor Archives. Elmer Holmes Bobst Library, 70 Washington Square South, New York, NY 10012, New York University Libraries; and Abe Smorodin and Lou Gordon just before departing for Spain, VALB/ALBA; RGASPI Fond 545, Opis 6, Delo 991.; Abe Smorodin, April 29, 2001, by Richard Bermack; be Smorodin and Leo Gordon, April 29, 2001, by Richard Bermack.
---