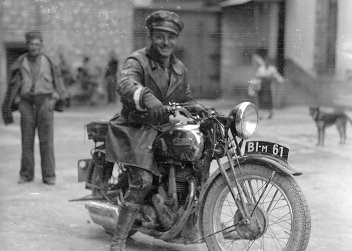 Biography
Halpern, Abraham Irving (Berg, Alvin; Halpern, Alvin); Prior military service in the Massachusetts National Guard, 101st Infantry, Co. E and Co. F; Received Passport# 471, Boston series, on July 26, 1937 which listed his address as 125 Ruthuen Street, Roxbury, Massachusetts, and Brookline, Massachusetts; Sailed July 28, 1937 aboard the Washington; Arrived in Spain via Espolla on August 8, 1937; Served with the XV BDE, Auto Park; Later Mackenzie-Papineau, possibly promoted to CPT in EM; Deserted and returned to the US where he wrote numerous sensationalist articles about his service in Spain.
---
Sources: Sail; Scope of Soviet Activity (under Berg, Alvin); Figueres List; XV BDE; USSDA (see Karl Albert Reed file – numerous clippings).
---
Photograph: Irving Halpern, Brigade motorcyclist, November 1937. The 15th International Brigade Photographic Unit Photograph Collection; ALBA Photo 11; ALBA Photo number 11-1282. Tamiment Library/Robert F. Wagner Labor Archives. Elmer Holmes Bobst Library, 70 Washington Square South, New York, NY 10012, New York University Libraries.