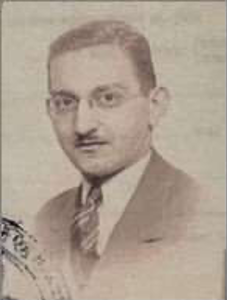 Biography
k-Schwartz, Abraham. b. December 18, 1912, NYC, New York; Russian American; Jewish; Father Solomon Schwartz (1880-1943), mother Freda or Frieda (Greenspan) Schwartz; Textile Worker and Cashier; CP 1933; Received Passport# 80010 on February 28, 1934 which listed his address as 2187 Douglas Street, Brooklyn, New York; Sailed February 20, 1937 aboard the Ile de France; Arrived in Spain on March 14, 1937; Served with the XV Brigade, Washington Battalion; Died in Villa Paz Hospital May 1937 of Typhoid (September 1937); Buried in the village cemetery of Saelices.
---
Siblings: sister Beatrice Schwartz (1912-?), George Schwartz (1917-?).
---
Sources: Scope of Soviet Activity; Americans; Americans and Canadians Killed in Spain Complete list to November 15, 1937 Killed in Spain; RGASPI; USSDA; L-W Tree Ancestry.
---
Photograph: Abraham Schwartz, Passport Photograph, 1937.