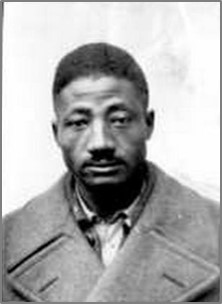 Biography
Kilpatrick, Admiral b. February 28, 1898 (February 4 or 20, 1904), Denver, Colorado (Ohio); African American; High School education, Attended the Lenin School 1933-35; Prior military service in WWI, US Army, Mechanic, in France 1917; Married (Separated?); Mechanic and Train Porter; CP 1927 (1928), Section Organizer; Received Passport# 367543 on February 16, 1937 which listed his address as 5810 (6310) Thackery Avenue; Cleveland, Ohio; Sailed February 20, 1937 aboard the Ile de France; Arrived in Spain on March 17 (7), 1937; Served with the United Garage No. 1, Garage No. 1; July 20, 1937 appointed Head of Transport for Denia and Benisa; November 1937 transferred to a General Transport unit as a Driver; Final position was as a front line Ambulance Driver with the 5th Army Corps, 45th Division, 12th BDE; Served at The Retreats and Ebro Offensive; Twice wounded, minor wound suffered at Caspe during The Retreats and shrapnel from bombs during Ebro Offensive  in hip and arm, in hospital Cambrel; Returned to the US on December 20, 1938 aboard the Ausonia; WWII Civilian; Married Jeannette Plaut Kilpatrick (1910-1976) on August 16, 1939, daughter Juanita A. Kilpatrick (1949-2018); d. February 20, 1992, Cleveland, Ohio; buried in Highland Park Cemetery, Sec 23 Lot A Tier 3 Grave 131, Highland Hills, Cuyahoga County, Ohio.
---
Source: Sail; Scope of Soviet Activity; Cadre; RGASPI Fond 545, Opis 6, Delo 922, ll. 14-21; African Americans; L-W Tree Ancestry; Find-A-Grave#155436221.  Code A
---
Box 2, Folder 23, 177_197042 [List of Names] Moscow Fond 545, Opis 5, Delo 197, ll. 42, Oct. 1938.  This is a page from Folder 197: Album of 15th International Brigade Presented to the American Communist Volunteers of the 15th Brigade by the Communist Party of Spain.  On a two page spread entitle Declaration of the American Negro Comrades eighteen individuals signed the second page.
---
Biography:  Admiral Kilpatrick was born in Denver on February 20, 1898. His father was born in Oklahoma to an Indian father and a black mother. Kilpatrick's mother was from Kentucky. Kilpatrick's father worked first as a cowboy in Oklahoma and then in the mines in Colorado. When Admiral was six years old, his father got a job with Republic Steel and moved the family to Cleveland, Ohio. Kilpatrick's father was a Debs Socialist, and his son accompanied him to political meetings when he was as young as twelve years old. Admiral Kilpatrick eventually joined the Socialist party and later the Industrial Workers of the World (IWW.) After high school he worked as an unskilled laborer in the Cleveland area. During World War I Kilpatrick joined the Army and served in France as a mechanic. After the war he briefly moved to Australia, returning to the United States in 1925. Kilpatrick became a member of the Communist party in 1928. Six years later the Party sent him to study in the Soviet Union. In 1935 Kilpatrick returned to the United States and helped organize the Congress of Industrial Organizations (CIO) and the unemployed movement. Kilpatrick left for Spain, on the Ile de France, on February 20, 1937. In Spain Kilpatrick served in a transport unit and later as an ambulance driver. Kilpatrick also did "special government work," which involved an intelligence unit's efforts to end the sabotage of trucks by Rebel sympathizers. While working as a frontline driver Kilpatrick was wounded by shrapnel. He returned to the United States aboard the Ausonia, on December 20, 1938. Back home Kilpatrick resumed his union activities; he became president of Local 735 of the Mine, Mill, and Smelter Workers. In the late 1940s the union was expelled from the CIO as Communist dominated. In the early 1950s Kilpatrick resigned from the union and went to work for Westinghouse. During the Red scare of the 1950s Kilpatrick was called before congressional investigators. He refused to talk but did not take the Fifth Amendment. Unable to find work Kilpatrick started a small independent trucking business. In the late 1950's, Kilpatrick, along with fellow Spanish Civil War veteran Harry Haywood, was involved in the short-lived Provisional Organizing Committee for a Communist Party (POC). The POC was an African-American and Hispanic American led political action group that was trying to found a new leftwing political party. In 1960, Kilpatrick was expelled from the Communist Party. A year later he was arrested and convicted on a larceny charge in Cleveland for which, although he maintained his innocence, he served a brief prison term. Kilpatrick died in February 1992. ~ Chris Brooks
---
Photograph: Admiral Kilpatrick in Spain, RA Fond 545, Opis 6, Delo 922.