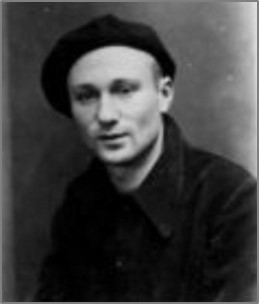 Biography
Ross, Adolph
. ("Buster", "Dolph", Adolfo Roces Rodriguez); b. February 3, 1917, NYC; High School education; Single; Laborer; CP 1937 and YCL 1934; Travelled to Spain on a Spanish Passport under the name of Adolfo Roces Rodriguez; Domicile 2072 73rd Street, Brooklyn, New York and Bensonhurst, New York; Arrived in Spain via Massanet on June 7, 1938; Montblanch Training Base June-July; Served with the XV BDE, Lincoln-Washington BN, Co. 4; Served at Ebro Offensive; WIA August 9, 1938 at Sierra Pandols; Returned to the US on December 31, 1938 aboard the
President Harding
; WWII US Army Air Corps, stateside service; d. September 20, 1998, Seattle, Washington; Put together the first comprehensive list of American volunteers in the SCW, self-published as
American Volunteers in the Spanish Civil War, 1936-1939
and initiated the ALBA biographical dictionary project.
---
Sources:
Scope of Soviet Activity; Figueres List; RGASPI; ALBA 137 Adolph Ross Papers and Photgraphs; Pacific NW; (obituary)
The Volunteer
, Volume 21, No. 1,Winter 1998-99, pp. 20, 23; Adolph Ross,
American Volunteers in the Spanish War, 1936-1939
, 1993, Self-published. Code A
---
Photograph:
Adolph Ross in Spain, RGASPI Fond 545, Opis 6, Delo 976; and photograph courtesy Adolph Ross.; Lillian and Adolph Ross, by Richard Bermack.
---