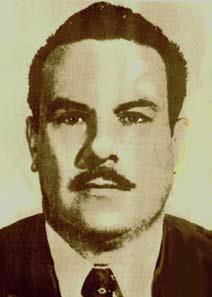 Biography
Agostini Villasanta, Jorge (Villa Sana, Jorge Agostini); b. February 25 (5), 1910, Mayari Cte., Married; Seaman; Domicile 500 West 161 Street, NYC, USA; Cuban CP, Party Secretary in US, Club Julio Mella; Was part of the first group of Cuban volunteers recruited by the Cuban CP which departed April 15, 1937; Arrived in Figueres via Port-Bou on June 7, 1937 [June 13, 1937]; Enrolled in the IB and was at Albacete in the Estado Mayor for two days before transferring to the Republican Navy; Commanded the Republican Torpedo boat #17 until November 2, 1937, then to the Destroyer Ullon; then served on the staff of the Destroyer Flotilla; Transferred July 13, 1938 to Submarine C-2 as the Executive Officer (2nd in command); Rank Comandante (Captain); Appears to have been enrolled in the XV BDE while at Ripoll; Returned to Cuba on May 27, 1939 aboard the Orduña.
---
Sources: RGASPI Fond 545, Opis 6, Delo 35, ll. 10 (under Villa Sana, Jorge Agostini); Opis 6, Delo 42, ll. 10-11, Relacion de los Voluntarios Internacionales Que Marchan a Mejico; Opis 6, Delo 42, ll. 26, Acantonamiento "H" Lista nominal de los comunistas del Bon Latino-Americano; Opis 6, Delo 585, ll. 112, Relacion Nominal de los Volunterio de Nacionalidad Cuban Que Se Dirigen Amejico; Opis 6, Delo 585, ll. 31, 141; Opis 6, Delo 585, ll. 157, Relación de comunistas que Podemos útilizer para nuestro trabajo; Opis 6, Delo 586, ll. 19-25; Grados Militares Alcanzados Por los Cubanos en los Tres Años de Guerra, ABBI; Primer Partido Comunista de Cuba 1/2:1/1.10/45-202, Lista de Embarque: Repatriados en el vapor Orduña el 13 de Mayo 1939; Vera Jimenéz; International Solidarity with the Spanish Republic; SIDBRINT. Code A
---
Photograph: Jorge Agostini Villasanta. Voluntarios Cubanos en la Guerra Civil Española.