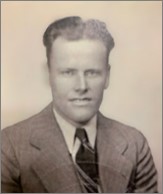 Biography
k-Foucek, Jr., Albert (Vojtech); b. June (August) 2, 1914, Omaha, Nebraska; Father Albert Foucek (1882-1949), mother Anna Foucek (1886-?); High School education; Single; Accountant; CP 1937 (1936) literary agent; Received Passport# 416865 on May 19, 1937 which listed his address as 2681(2861) Cass Street, Omaha, Nebraska; Sailed May 29, 1937 aboard the Britannic; Arrived in Spain via Massanet on June 16, 1937; Served with the  XV BDE, Mackenzie-Papineau BN; Attended OTS and graduated February 16, 1938; Worked at the training base as an instructor of rifles; Sent to BDE during Retreats; KIA April 3, 1938, Gandesa, during the Retreats; Older brother of volunteer George Foucek (1917-1966).
---
Siblings: sisters Jeaz Z. (1909-?), Elsie (Eliska) Coleman (1912-?), Alice (1912-?), Anne Dorthy Forslund (1919-2016), Marie Foucek (1929-?), brothers Victor (1912-?), Karel (Charles) A. (1922-1964), Edward E. (1924-1969), Zdenka Chase (?)
---
Sources: Scope of Soviet Activity; Cadre; Figueres List; XB BDE; Mac-Paps; RGASPI; L-W Tree Ancestry.   Code A
---
Photograph: Albert Foucek, Passport Photograph, 1937.