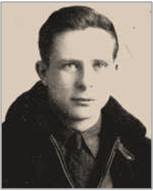 Biography
Baumler, Albert John
("Ajax"); b. April 17, 1914, Bayonne, New Jersey; Pilot; Prior military service in the US Army Airforce, had failed out of pilot training program; Single; Pilot; No party affiliation; Received Passport# 357328 on December 14, 1936 which listed his address as 43 Myrtle Avenue, Trenton, New Jersey; Arrived in Spain on December 24, 1936; Served with the Republican Airforce; Returned to the US on August 26, 1937 aboard the
Empress of
Britainnia, 
docking in Canada before flying into the US; After returning he rejoined the US Army Air Force in 1938; WWII volunteered for Claire Chenault's American Volunteer Group but was delayed and did not arrive until after Pearl Harbor; In 1942 the American Volunteer Group was absorbed into the US Army Airforce and Baumler was reinstated as an officer pilot, rising to the rank of Major; After the war he was reduced to the rank of Sergeant; Later served in the Korean War; He retired in 1965 with his wartime rank of Major; d. August 2, 1973, Waco, Texas; buried in Georgetown Cemetery, near Pottsboro, Texas; Baumler's military awards include the Distinguished Flying Cross (with oak leaf cluster), Air Medal, Bronze Star, Army Commendation Medal, American Defense Service Medal (with foreign service star), American Campaign Medal, European-African-Middle Eastern Campaign Medal, Asiatic-Pacific Campaign Medal (with 3 campaign stars), World War II Victory Medal, National Defense Service Medal, Korean Service Medal (with 2 campaign stars), Air Force Longevity Service Award (with 6 oak leaf clusters), Republic of Korea Presidential Unit Citation, and United Nations Korean Service Medal, and was rated a Senior Pilot.
---
Source:
Scope of Soviet Activity; John Carver Edwards, Airmen Without Portfolio, Westport, Connecticut: Praeger, 1997; L-W Tree Ancestry; Find-a-Grave#41552959. Code A
---
Photograph:
Albert John "Ajax" Baumler. Photograph from Jan Josef Safarik website; and L-W Tree Ancestry.
---