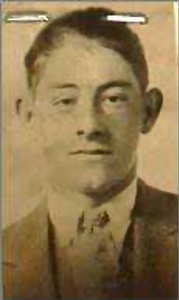 Biography
Lahue, Albert Joseph Vincent. (La Hue; Vincent, Albert Joseph (real name Lahoz Vincent, Albert); Elementary education; Seaman; CP 1937; Domicile 13 Tallman Avenue, East Providence, Rhode Island; Traveled on a Spanish Passport under the name Alberto Vincente Lahoz; Sailed October 29, 1937 aboard the Georgic; Arrived in Spain via Massanet on November 14, 1937; Served with the XV BDE; SIM reported deserted; Noted as involved in a desertion plot in Tarrazona and was sent to XV BDE.
---
Sources: Sail; Scope of Soviet Activity; Figueres List; RGASPI Fond 545, Opis 6, Delo 557, ll 6 (Fiche only); Opis 6, Delo 849, ll. 2, Special List for Personnel Service, I. Political Susect and Bad Element List, January 16, 1938;Momryk; RGASPI (under La Hue, Albert Joseph Vincent).
---
Photograph: Albert LaHue from his Application for a Seaman's Certificate of Identity.