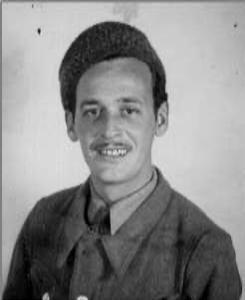 Biography
Solis Mesa, Alberto Raul. b. August 7, 1909, Havana, Cuba, To the US 1933; Cuban American; father Enrique (d.), mother Maria Soli;, 2 years of college; No prior military experience; Married Ana Mateu on October 27, 1934 in NYC, 1 child Daniela?; Driver and Student; Director Julio Mella Club in NYC, CP USA 1933, joined Cuban CP in Spain; Domicile 1413 Fifth Avenue, NYC, USA (28 W. 120 Street, NYC); Sailed January 16, 1937 aboard the Paris; Arrived in Spain on January 29, 1937; Served in the XV Brigade, Lincoln Battalion, Co. 2; Released from Brigade, was supposed to take on secret work, but instead was appointed responsible for English speaking volunteers at Pontones; later in 35th Division; Rank Soldado; Served at Jarama February 16-June 15, 1937, Brunete July 4-July 29, 1937, Quinto and Belchite August 10-October 6, 1937; Selected for Secret Service but apparently did not under go training; Appointed Responsible for Americans in Pontones; Rank Soldado; Returned to Cuba on May 27, 1939 aboard the Orduña; Member of the Committee of Ex-Combatants; WWII Armed Forces; Married Estela Perez on October 2, 1944 in Hillsborough, Florida, divorced 1946; Served in the Cuban Embassy trough out the 1950s; WWII US Army, Rank Staff Sergeant; d. October 27, 1986, Miami, Dade County, Florida, buried in Flagler Memorial Park in Miami.
---
Siblings: Brother Jesus Solis Mesa; sister Clara.
---
Sources: Americans; Lincoln; RGASPI Fond 545, Opis 2, Delo 296, ll. 58, List of Irish and Cuban Comrades, June 20, 1937; Opis 3, Delo 453, ll. 14; Opis 6, Delo 42, ll. 10- 11, Relacion de los Voluntarios Internacionales Que Marchan a Mejico; Opis 6, Delo 42, ll. 29, Relacion de los desertores del Acantonamiento "H"; Opis 6, Delo 585, ll. 113, Relacion Nominal de los Volunterio de Nacionalidad Cuban Que Se Dirigen Amejico; Opis 6, Delo 585, ll. 154, Comite de Ex-Combatientes de Espana de Cuba January 9, 1939; Opis 6, Delo 585, ll. 78, and 125; Opis 6, Delo 601, ll. 65-75; USSDA 852.2221/231.13; (obituary) The Miami News, October 28, 1966; Alfonso Bello and Pérez Díaz; L-W Tree Ancestry; SIDBRINT.
---
Photograph:
Alberto Solis Mesa in Spain, RGASPI Fond 545, Opis 6, Delo 601.