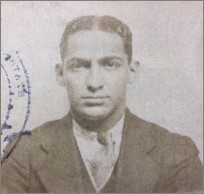 Biography
k-Alexander, Alex b. December 20, 1910, Molaoi, Greece; Arrived in US September 10, 1920; Greek American; Father Peter Alexander (b. 1868, Molaoi, Greece, arrived in US around September 1920, Naturalized March 30, 1926); Driver; CP 1936; Received Passport# 366586 on February 11, 1937 which listed his address as 2065 Dean Street, Brooklyn, New York; Sailed February 20, 1937 aboard the Ile de France; Served with the Albacete Auto Park, Driver; Severely wounded in the bombing of Almeria where the Auto Park was delivering trucks; d. June 5, 1937 from wounds, in the hospital in Almeria.
---
Source: Scope of Soviet Activity; Americans; Americans and Canadians Killed in Spain Complete list to November 15, 1937; RGASPI Fond 545, Opis 6, Delo 856, ll. 11, fiche with dod; Search for his passport 366586 did not return a result however, a passport in the same name 462755 issued in 1932 may be him. Code A1
---
Photograph: Alex Alexander, Passport photograph 1932 (tentative identification).