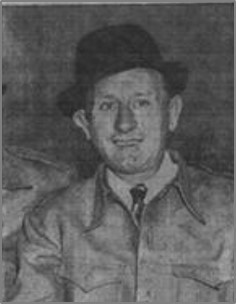 Biography
Anderson, Alf
(Andreason/Andreasen, Alf); b. September 15, 1901, Bergen, Norway; Norwegian American; POW; Prior military service in the US Coast Guard from 1925-27; Single, Seaman and Carpenter; CP 1932, Unit finance secretary; Domicile Brooklyn, New York; Sailed June 5, 1937 aboard the
Lancastria
; Arrived in Spain via Espolla on June 20, 1937; Served with the XV BDE, Lincoln-Washington BN; WIA on two occasions; Captured at Teruel January 1938, Freed March 24, 1940; Returned to the US on April 24, 1940 aboard the
Exford
; d. May 1977.
---
Source:
Cadre (under Andreasen); Figueres List; Inventory North Americans (Andresson); RGASPI Fond 545, Opis 6, Delo 857, ll. 51 (ver ar gen amer); USSDA (under Andresen) 2:0384; Pacific NW; POW.
---
Biography:
  Andrease,
Alfred, was born in Bergen, Norway September 15, 1901. Brought to the United States in 1903, he became a citizen when his father, Rasmus, was naturalized in 1909 in Brooklyn. Alf served in the US Coast Guard from 1925-1927. Between jobs as a seaman, he became a skilled carpenter. Alarmed by the rise in fascism, Alf left for Spain on the SS Lancastria on June 5, 1937.
A Lincoln comrade remembers him as "a very quiet soldier." His dedication to the fight against fascism was shown by his refusal to go home although wounded twice. How he was captured and his 27 months in Franco prisons are described in Chapter 5 (Prisoners of the Good Fight). Back home he married a cousin of his prison mate, Reuben Barr, and went back to carpentry. Alf died in 1969. ~ Steck and Geiser Prisoner of War Historical Commission
---
Photograph:
Reuben Barr and Alf Anderson on their return from Spain,
Sunday Worker,
April 7, 1940.
---