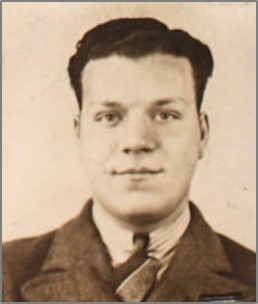 Biography
Castronuovo, Alfred Joseph (Fred?); b. July 20, 1918, NYC; Italian American; 3 years unspecified prior military service; Seaman and Driver; CP 1934 (YCL); Received Passport# 366432 on February 10, 1937 which listed his address as 16004 89th Avenue, Jamaica, New York; Sailed February 20, 1937 aboard the Ile de France; Arrived in Spain on March 17, 1937; Served with the Regt. de Tren; Deserted; Arrived in Algiers; In Algiers on April 14, 1938, signed on as a workaway on the Examelia along with Francis Edward Fender; Three additional deserters including his brother John Michael Castronuovo, Hugh Larkin, and William Rudnisky stowed away aboard the ship; All five arrived in the US on May 5, 1938; d. November 15, 1993, Whitefield, Coos, New Hampshire; Spoke English and Italian.
---
Sibling: brother John Michael Castronuovo.
---
Source: Americans; Sail; Scope of Soviet Activity; RGASPI Fond 545, Opis 6, Delo 544, ll. 23; Italian; L-W Tree Ancestry. Code A
---
Photograph: Alfred Castronuovo from his 1937 Application for Seaman's Protection Certificate, L-W Tree Ancestry.