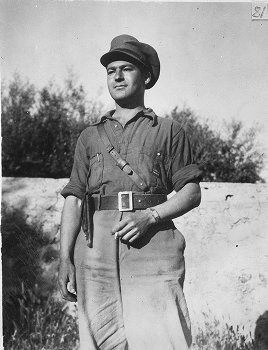 Biography
Tanz, Alfred Leo
. Jewish; b. March 15, 1906, NYC; Jewish; Graduated from the City College of New York and NY Law school; Separated; Lawyer; American Labor Party; Received Passport# 357374 on December 15, 1936 which listed his address as 1436 R Street NW, Washington, District of Columbia; Sailed December 26, 1936 aboard the
Normandie
; Arrived in Spain on December 31, 1936; Served with the XV BDE, Lincoln BN and Lincoln-Washington BN, Quartermaster for BN, February 14-August 1937; Served at Jarama and Brunete; Returned to the US in Spring 1938; Returned to Spain via Massanet on June 7, 1938; Served with the XV BDE, Lincoln-Washington BN, MG Co.; Rank Teniente; WIA in wrist during the Ebro Offensive; Returned to the US on December 20, 1938 aboard the
Ausonia
; WWII US Army 1942; Promoted to Lieutenant in 1943; Attached to Office of Strategic Services (OSS); Received Airborne Training and served in the ETO, Northern France, and the Rhineland; Parachuted into France prior to D-Day and stayed in a farm near St. Mere Inglese; Attached to Engineers, served at the Battle of the Bulge; Promoted to Captain; Discharged 1947; Decorated with European, African, Middle Eastern Theater Campaign Ribbon, American Theater Campaign Ribbon, WWII Campaign Ribbon; d. November 29, 2000, Oakland, California, buried in the Golden Gate National Cemetery, San Bruno, San Mateo County, California; One of seven volunteers who completed a second tour in Spain.
---
Sources:
Sail; Scope of Soviet Activity; Figueres List; Pay; Repatriation List (12/4/1937, ll. 43); Find-a-Grave# 7596857; (obituary) The Volunteer, Volume 23, No. 5, Winter 2001, p. 20; (obituary) San Francisco Chronicle, December 6, 2000. Code A
---
Photographs:
Al Tanz. International Brigade Archive, Moscow: Select Images, Folder 188: 15th International Brigade Volunteers, Portraits, 1937-38, Box 2, Folder 14; ALBA Photo 177; ALBA Photo number 177-188081. Tamiment Library/Robert F. Wagner Labor Archives. Elmer Holmes Bobst Library, 70 Washington Square South, New York, NY 10012, New York University Libraries.; Al Tanz, April 26, 2000, 90th Birthday Party, by Richard Bermack.
---