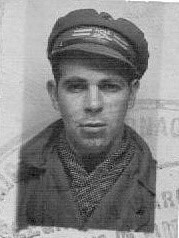 Biography
Warren, Alvin (Alvin Cohen); b. May 15, 1913, Brooklyn, New York; Jewish; Education through the 7th grade, GED; Single; Teamster, Truck Driver, Taxi Driver, and Union Organizer for CIP, UAW and UE; CP 1937; Domicile 286 McClelan Avenue, Mt. Vernon, New York and YMCA, Main Street, Tarrytown, New York; Sailed April 21, 1937 aboard the Manhattan; Served in the Albacete Auto Park, Driver; XV BDE, Driver, later assistant and bodyguard; Liaison to BDE; Rank Teniente; Returned to the US on September 11, 1938, aboard the Aurania; WWII US Army, 29th Infantry Division, Co C, 121st Combat Engineers, attached to 116th Combat Team, Rank Corporal; d. October 18, 1997, New York.
---
Sources: ALBA PHOTO 128 Alvin Warren Photographs; Harriman. Code A
---
Biography: Alvin R. Warren was born to Jewish parents in Brooklyn in 1913 and raised in Mount Vernon, NY. Frustrated by the racial and ethnic prejudice he experienced in this small, predominantly white middle-class town, Warren left home at age 13, spending the next few years riding the rails and "talking left-wing politics" with those he met on the road. At age sixteen he joined the Young Communist League and later became a member of the Communist Party. In the early 1930s he worked with groups agitating for labor reform and was soon appointed a full-time labor organizer for the Congress of Industrial Organizations (CIO). Warren volunteered for Spain and joined the Abraham Lincoln Brigade soon after the outbreak of the Spanish Civil War in 1936; he quickly rose to the rank of lieutenant. When the International Brigades left Spain in 1938, he returned to America and continued his activity on behalf of left-wing, pro-labor, and anti-fascist political causes. Upon the United States' entry into World War II in 1941, Warren fought off charges of "suspected disloyalty" to join the U. S. Army, and eventually participated in the D-Day invasion and in ground battles in both France and Germany. During the 1950s and 60s Warren continued his political activity despite harassment from the FBI. In the 1970s he became an outspoken opponent of the Vietnam War, and later denounced American acts of aggression in Cuba, Panama, Grenada and Kuwait. On the local level, he remained active in the struggle to end civil rights violations and racial discrimination in towns in New York State. Warren rejoined the CP in the early 1970's and remained a member of the Communist Party to the end of his life. "I am convinced that Socialism is the wave of the future," he is quoted as saying; "[T]he Communist party is the only party that has the ideology, ability and background experience to lead this movement through." - Courtesy of Tamiment Library, NYU.
---
Photograph: Alvin Warren. Photograph courtesy Alvin Warren.