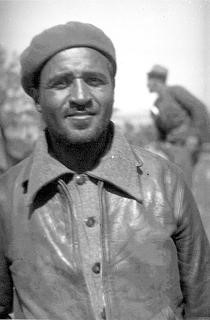 Biography
k-Mitchell, Andrew G. b. December 27, 1902; African American; National Guard (unconfirmed); Married; Chauffeur; CP 1931; Received Passport# 459723 on July 12, 1937 which listed his address as 17 Elmore Street, Pittsburgh, Pennsylvania; Sailed July 21, 1937 aboard the Berengaria; Arrived in Spain via Espolla on July 31, 1937; Served with the XV BDE, Lincoln-Washington BN; WIA Belchite; Attended OTS and graduated February 16, 1938; Remained at the training base as an Adjutant Company Commander of the recruit company; Led a draft to the front during Retreats joining the Lincoln-Washington BN; Rank Soldado; Reported MIA between March 30, 1938 and April 3, 1938, Gandesa, during the Retreats.
---
Sources: Scope of Soviet Activity; BN 58 Retreats; Cadre; Figueres List; RGASPI Fond 545, Opis 6, Delo 948, ll. 129; African Americans.
---
Biography: Andrew Mitchell was born on December 27, 1902. When he volunteered to join the International Brigades, he was working as a driver in Pittsburgh. He departed for Europe, on the Berengeria, on July 21, 1937. In Spain, after attending officer training school, Mitchell was assigned to one of the battalions of the XVth Brigade on the Aragon Front. While at the front he became ill and was evacuated to Murcia. After he recovered Mitchell served as the Adjutant commander of a training company. When the front broke during the initial stages of the Retreats, Mitchell led a company to the front. He was killed between March 30 and April 2, 1938, during the retreat from Gandesa. ~ Chris Brooks
---
Photograph: Andrew Mitchell, March 1938. The 15th International Brigade Photographic Unit Photograph Collection; ALBA Photo 11; ALBA Photo number 11-0128. Tamiment Library/Robert F. Wagner Labor Archives. Elmer Holmes Bobst Library, 70 Washington Square South, New York, NY 10012, New York University Libraries.