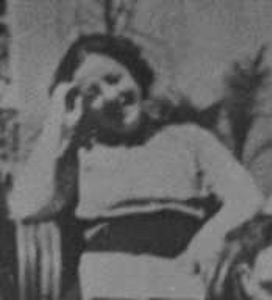 Biography
Shuldiner, Anne. (Goldman); b. February 2, 1915, NYC; AMB; Jewish; father Leon Shuldiner (1888-?), mother Pauline Mollie Shuldiner (1891-?); Graduated from the Beth Israel School of Nursing; Single; Nurse, Head of Outpatient Services at Beth Israel Hospital; Served with the Medical Services in Albacete and on the Cordoba Front in Belalcazar with the 86th Mixed Brigade; Returned November 23, 1937 aboard the Berengaria; Husband Benjamin Barcon Goldman, son Robert S. Goldman, daughter Eleanor; d. April 1, 2004, Pittsburg, Pennsylvania, buried in Mount Ararat Cemetery, East Farmingdale, Pittsburgh, Pennsylvania; Married name Goldman.
---
Siblings: brothers Max Shuldiner (1918-?), Bernard Shuldiner (1918-2005), sisters Sarah Naomi Shuldiner (1917-/) and Claire Shuldiner (1919-?).
---
Sources: (obituary) Eleanor Hershberg, "Anne Shuldiner Goldman, 1915-2004," The Volunteer, Volume 26, No. 2, June 2004, p. 18; L-W Tree Ancestry; Find-a-Grave #79441304.
---
Photograph: Anne Shuldiner, Frederika Martin Photo 001, Photo number 1:1:19:1 (part of a group photo)