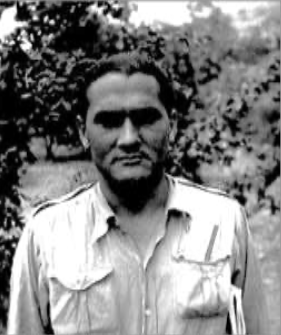 Biography
DeMaio, Tony (Day, Tony; DeMayo; Anthony); b. February 21, 1914, Hartford, Connecticut; Father Donato (Daniel) DeMaio, Mother Serafina Ricci DeMaio; 2 years of school; Prior military service with the US Navy, was part of the Yangtze River Patrol 1931-34, assistant boilermaker; Single; Boilermaker, Representative for UE-CIO (stationary engineer); CP 1935, YCL and Spanish CP; Received Passport# 357994 on December 19, 1936 which listed his address as 858 New Britain Avenue, Harford, Connecticut; Sailed December 26, 1936 aboard the Normandie; Arrived in Spain on January 2 (6), 1937; Served with the XV BDE, Lincoln BN; Brigade Estado Mayor, Chief Camp Lukase August 8, 1937 to September 28, 1937; SIM stationed at Figueras as Chief of Anglo-American delegation October 4, 1937 to January 28, 1938; SIM of the Albacete Base February 11, 1938 to May 25, 1938 Returned to BDE as SIM officer and May 25, 1938 to August 18, 1938; transferred to SIM of the administrative central September 15, 1938; Rank Alferez; Served at Jarama, Brunete, and Ebro Offensive (Gandesa); WIA Brunete July 10, 1937 and again during Ebro offensive on August 18, 1938; Returned to the US on March 3, 1939 aboard the Manhattan; WWII US Army, Engineers, volunteered for the infantry in December 1944 and served with the 26th Division; Promoted to Sergeant; Awarded the Bronze Star; Post-war he served on the UE Staff for approximately 27-years; d. July 11, 1999, Victorville, San Bernardino, California; DeMaio went to Spain and returned using his brother Albert's passport.
---
Source: Scope of Soviet Activity; Cadre; Americans; Pay; RGASPI Fond 545, Opis 6, Delo 880, ll. 1-20; Opis 6, Delo 942, ll. 19-26; AICVAS; Good Fight C; "A Medal Well Earned," The Volunteer, Volume 11, No. 1, p. 9; (obituary note) The Volunteer, Volume 22, No. 1, Winter 2000, p. 19; L-W Tree Ancestry. Code A
---
Photograph: Tony DeMaio in Spain, RGASPI Fond 545, Opis 6, Delo 942.