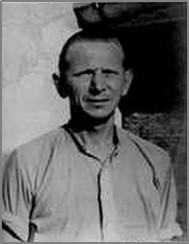 Biography
Drossel, Anthony B.
b. May 4, 1898, Chicago, Illinois; Polish American; Father Louis Drossel, mother Felicia Drossel; Prior military service in US Army during WWI, listed as 6 month volunteer in 1918, enlisted June 17, 1918, released January 30, 1919, Rank Private; 8 years formal education; Divorced wife Margaret Drossel; CP 1932; Photographer; Received Passport# 377296 on March 22, 1937 which listed his address as 1517 Cortez Street, Chicago, Illinois; Sailed April 5, 1937 aboard the
Britannic
; Arrived in Spain on April 28, 1937; Served with the XV BDE, Washington BN, Co. 3, Section 1; XV BDE, Commissario as a photographer; 35th Division Commissario as a photographer; Last unit XV BDE, Estado Mayor, Operations as Observer; Rank Soldado; Served at Brunete, Quinto, Belchite, Fuentes de Ebro, Levante, and Catalonia; Returned to the US on December 20, 1938 aboard the
Ausonia
; d. July 7, 1977, Iron Mountain, Michigan, buried in Wausaukee Evergreen Cemetery in Wausaukee, Wisconsin; Spoke English, Polish, and a little Spanish.
---
Siblings:
brothers Felix J. Drossel (1888-?), Louis Drossel (1895-?), sisters Michalina Drossel (1883-?), and Louis Drossel (1895-?).
---
Source:
Scope of Soviet Activity; Cadre; Pay;Washington; XV BDE; RGASPI Fond 545, Opis 6, Delo 883, ll. 20-30; USSDA 2:0504, 53:0864; L-W Tree Ancestry; Find-a-Grave #182721758. Code A
---
Photographs:
Anthony B. Drossel RGASPI Fond 545, Opis 6, Delo 883; The 15th International Brigade Photographic Unit Photograph Collection; ALBA Photo 11; ALBA Photo number 11-0956. Tamiment Library/Robert F. Wagner Labor Archives. Elmer Holmes Bobst Library, 70 Washington Square South, New York, NY 10012, New York University Libraries.
---