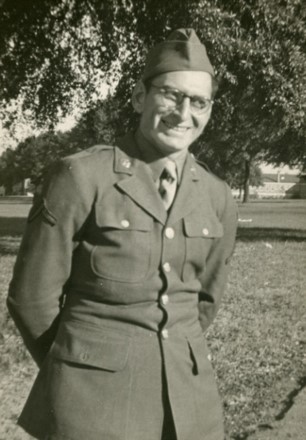 Biography
Toney, Anthony. (Strong); b. June 28, 1913, Gloversville (Glennville), New York; Syrian American; Attended Syracuse University Teachers College and Ecole de Beau Arts 1937; Single; Artist; CP 1934 (1936) and YCL 1935; Received Passport# 473797 on August 30, 1937 which listed his address as 15 Washburn Street, and 03 Lincoln Street, both Gloversville, New York; To Spain from France where he was studying at the Ecole de Beau Arts; Arrived in Spain via Massanet on April 27, 1938; Served with the 15th Army Corps, Special MG BN, Co. 2; Served at Ebro Offensive; WIA September 20 or 28, 1938, stray bullet through the jaw, near Gandesa; Rank Cabo; Returned to the US on December 20, 1938 aboard the Ausonia; WWII US Army Air Force, Corporal, decorated with the Distinguished Flying Cross and Air Medal with clusters, served in New Guinea; d. September 10, 2004, Marin County, California.
---
Sources: Scope of Soviet Activity; Figueres List; RGASPI; USSDA 2:0988, 61:0065; (obituary) Anita Toney, "Anthony Toney, 1913-2004," The Volunteer, Volume 26, No. 4, December 2004, p. 16; (obituary) "Anthony Toney, 91, Painter and Teacher Dies," New York Times, September 16, 2004; The Art of Anthony Toney, http://www.mesart.com/indexps.jsp?artist=3513 Code A
---
Photograph: Anthony Toney in World War II, around 1942. Photograph from The Art of Anthony Toney.