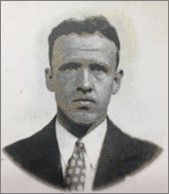 Biography
k-Briski, Anton (Antun Brisa); b. March 3, 1906, Atlantic, Houghton County, Michigan; Returned to Yugoslavia in 1907, staying through 1924; Received passport 466156 in June 1924 while in Yugoslavia; To the US in 1929; He worked in Joliet, Illinois; Croatian American; Father John Briski (b. Delmice, Austria- d. 1929, to the US 1904 to 1907); CP; Received Passport# 363124 on January 23, 1937 which listed his address as 8426 Muskegon Avenue, Chicago, Illinois; Sailed January 28, 1937 aboard the Aquitania; Killed in action April 27, 1937, Jarama; South Slav; Indicates he was born in Delnice, Austria (Croatia).
---
Sibling: sister Mary Klarich.
---
Source: Scope of Soviet Activity; Americans; Americans and Canadians Killed in Spain Complete list to November 15, 1937; Canadian; South Slav; Spisak, in Spanija, 5 : 513. Code A [May have been killed by a sniper in the trenches at Jarama]
---
Photograph: Anton Briski, Passport photograph.