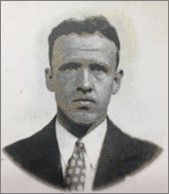 Biography
k-Briski, Anton (Antun Brisa); b. March 3, 1906, Atlantic, Houghton County, Michigan and returned to Yugoslavia in 1907 staying through 1924, in 1924 received passport 466156 oin June 1924 while in Yugoslavia.where he worked in Joliet, Illinois; Croatian American; father John Briski (b. Delmice, Austria- d. 1929, to the US 1904 to 1907); CP; Received Passport# 363124 on January 23, 1937 which listed his address as 8426 Muskegon Avenue, Chicago, Illinois; Sailed January 28, 1937 aboard the Aquitania; Killed in action April 27, 1937, Jarama; South Slav indicates he was born in Delnice, Austria (Croatia), to the US in 1929.
---
Sibling: sister Mary Klarich.
---
Source: Scope of Soviet Activity; Americans; Americans and Canadians Killed in Spain Complete list to November 15, 1937; Canadian; South Slav; Spisak, in Spanija, 5 : 513. Code A [May have been killed by a sniper in the trenches at Jarama]
---
Photograph: Anton Briski, Passport photograph.