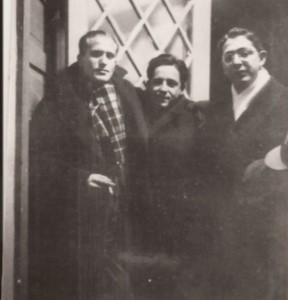 Biography
k-Goldberg, Arthur (Grogan, Quentin Arthur; Gorgan); b. August 29 (10), 1913 (1911), NYC; Attended the University of Michigan; Married (Single); WPA Teacher, Radio technician and Taxi Driver; CP April 1933 Unit Organizer, Teachers Union Local 453; Domicile 3999 Dickinson Avenue, NYC; Sailed February 20, 1937 aboard the Ile de France; Arrived in Spain on March 7 (5), 1937; Served with the XV BDE, Mackenzie-Papineau BN in training; Sent as replacement to the brigade; Served at Brunete and later as an Ambulance Driver on the Cordoba Front during the Offensive at Penaroyya, then to Villa Paz; Captured and executed April 3, 1938 during the Retreats; Spoke English, French, and German.
---
Sources: Cadre (under Gorgan); Mac-Paps; RGASPI (under Gorgan) Fond 545, Opis 6, Delo 966, ll. 7-8, Solicitud de Paso o Ingreso en el Partido Comunista Español with notes on back; USSDA 2:0581, 54:0894. Code A
---
Photograph: Edward Lending, Bob Steck and Arthur Goldberg prior to boarding the Ile de France; Ed Lending Collection.