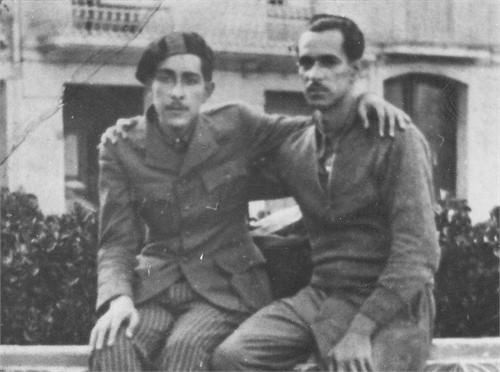 Biography
k-Paula Bolaños, Aurelio. ("Kuki"); b. December 30, 1904, Tampa, Florida; Cuban American; Parents Paula P. Dolores Bolanos M. and Jose M. Paula; Elementary School education; No military experience; Married (separated for 6 years); Tobacco Worker and Driver; CP 1932, AFL, TUULCIO in Tampa, and EUA in Philadelphia; Domicile 528 West 158th Street, NYC (this was his wife's address), and 504 Randolph Street, Philadelphia, Pennsylvania (this was his brother's address where he actually lived); Sailed February 1938; Arrived in Spain February 18, 1938; Served with the XV BDE, Lincoln-Washington BN, Co. 3; Spanish 24/59th BN; Rank Cabo; Killed in action August 1938, Corbera Church, Ebro Offensive.
---
Sources: Pay List (under Paula, Aurelio); RGASPI Fond 545, Opis 6, Delo 599, ll. 17- 18; USSDA 2:0829, 58:0687; Alfonso Bello and Pérez Díaz; Vera Jimenéz; SIDBRINT.
---
Photograph: Eladio Paula Bolanos and his brother Aurelio Paula Bolanos in Spain, family photograph.