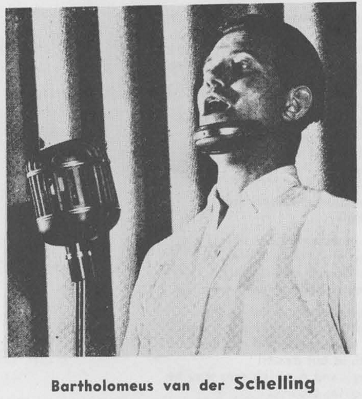 Biography
Van Der Schelling, Bart
b. May 1892, Netherlands; to the US in 1926 or 1927; Dutch; Married (left his wife); House painter; Domicile New York; Sailed March 10, 1937 aboard the
Washington
; Served with the XV BDE, WIA Brunete; d. 1970, Mexico City, Mexico.
---
Sources:
Ross; VALB Memorial Tribute, December 6, 1970.
---
Biography: 
Bartholomeus Van der Schelling was born in the Netherlands in May 1892. He left the Netherlands abruptly in 1926 or '27, when he was in his mid-thirties--it seems primarily to escape a bad marriage. He emigrates to the US. In New York City he met and became friends with the painter Willem de Kooning, a fellow Dutchman. They set up a house painting business together. Bart became radicalized. In 1936 he enlisted in the ALB, and went over on the same boat as the composer Conlon Nancarrow. He fought in the Abraham Lincoln Battalion, and was severely wounded at Brunete (facial injury). While recovering in the Murcia hospital--and this is the interesting part--he came up with the Spanish lyrics for Viva la Quince Brigada as we know it, using an existing folk melody (he was a terrific baritone). After the war he returned to the US. In 1941 he recorded a record for the League of American Writers, Behind The Barbed Wire, with SCW songs and concentration camp songs (as a fundraiser). He was one of the candidates to join the re-named Almanac Singers with Pete Seeger. In 1943 he was the best man at De Kooning's wedding. He later moved to Mexico, with his partner, the painter Edna Moore. After a stroke or heart attack, he took up painting, and became moderately successful; He had shows in Mexico City and in the Netherlands. Van der Schelling died in 1970. - Sebastiaan Faber, ALBA Board Chair
---
Photographs:
Album liner notes photograph, ALBA/VALB, and below, Photo courtesy of the Van der Schelling family.
---