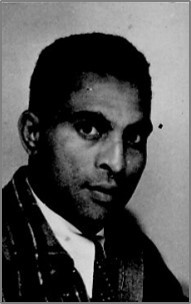 Biography
Cueria y Obret, Basilio
b. June 14, 1895; Mariano, Cuba; Afro-Cuban; To the US 1920; Parents José and Juanita Cueria Obret; Primary school education; Cuban Army, enlisted 1917, served three years; Infantry, Rank Cabo; Married, 1 child; Laborer and former Professional Baseball Player for Mariano Team in Cuba and Cuban Stars in the US; CPUSA April 1935 (1931, 1933), Spanish CP 1938, Club Julio Mella; Domicile 60 E. 109th Street, NYC, USA; Sailed January 20, 1937 aboard the
Berengaria
; Arrived in Spain on February 4, 1937; Served with the XV BDE, Lincoln BN, Co. 1, Centuria Antonio Guiteras; Transferred to 46th Division "Campesinos," 10th BDE, Commander Special MG Co. attached to Division HQ, later Conandencia; Rank Comandante; Served at Jarama, Quijorna, Teruel, Lerida, Balaguer, and the Ebro Offensive; Chief of the Latin American contingent at Ripoll; Served as the President of the Committee of Ex-Combatants; Likely returned directly to Cuba after leaving Spain; d. May 8, 1959, Cuba.
---
Source:
Sail; Cadre; Americans; Lincolns; RGASPI Fond 545, Opis 2, Delo 296, ll. 58; Opis 6, Delo 42, ll. 10-11, Relacion de los Voluntarios Internacionales Que Marchan a Mejico; Opis 6, Delo 42, ll. 28, Relacion de los desertores del Acantonamiento "H"; Opis 6, Delo 585, ll. 33; 68, 86-94,124; Opis 6, Delo 585, ll. 112, Relacion Nominal de los Volunterio de Nacionalidad Cuban Que Se Dirigen Amejico; Opis 6, Delo 585, ll. 121, Miembros de Comite de Amical de los voluntaries Cubanos; Opis 6, Delo 585, ll. 124; Opis 6, Delo 585, ll. 154, Comite de Ex-Combatientes de Espana de Cuba January 9, 1939; Grados Militares Alcanzados Por los Cubanos en los Tres Años de Guerra, ABBI; African American; Alfonso Bello and Pérez Díaz; Vera Jimenéz; Baumann; Lambe; Alberto More Tabio, "Five Heroes of Cuba Who Fell at Jarama,"
Daily Worker
, April 3, 1937, Clipping; SIDBRINT.
---
Biography
Basilio Cueria y Obrit was born in Marianao, Cuba in 1895. His mother was Afro-Cuban and his father an Asturian miner who had emigrated from Spain. As a youth, Cueria was an outstanding baseball player and during a three-year enlistment in the Cuban armed forces, played on the Army's all-star team. Later he played for the professional "All Cubans" and later the "Cuban Stars." With these teams he toured Cuba and the southern United States. In 1923, Cueria retired from baseball and moved to Jacksonville, Florida. Three years later he moved to Long Island, New York where he got a job in a heating plant. He briefly attempted a professional comeback in baseball, playing with the "Havana Red Sox." In 1928, he retired permanently from baseball. During the 1930s, Cueria lived and worked in New York where he remained close to the Cuban American community and was a member of the Julio Mella Club. In 1935 he joined the Communist party. Cueria volunteered for the International Brigades in the fall of 1936. Leaving behind his wife and child, he sailed for Europe aboard the Berengaria on January 20, 1937. In Spain he first served in the Lincoln Battalion, but after five months transferred to the Spanish 46th Division, named after its famed commander, El Campesino. Cueria commanded a Machine Gun Company. At the battle of Jarama he single-handedly wiped out an enemy machine-gun nest. Cueria was promoted to Captain and received a citation for distinguished service from General Miaja. After the international volunteers left Spain, Cueria returned to Cuba where he died in 1959.~ Chris Brooks
---
Photographs:
Basilio Cueria y Obret,RGASPI Fond 545, Opis 6, Delo 588; and below Cueriay Obret (on right). "Joe" Cuerra on the Jarama Front, Spain 1937, NYU, Tamiment,
Daily Worker Photograph Collection
, DW 223, Box 201, file 25280B.
---