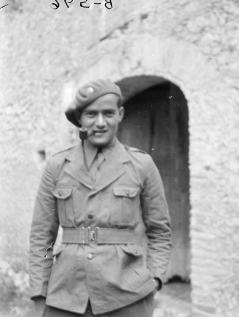 Biography
k-Barsky, Benjamin b. May 5, 1914 (October 5, 1913), New York; father Szmul Zabarski, mother Miriam Zabarski; graduated from James Monroe HS and attended City College of New York; ROTC; Single; Teacher; YCL 1937 (1934), CP; Received Passport# 396420 on April 23, 1937 which listed his address as 2150 Crotona Parkway, Bronx, New York; Sailed May 8, 1937 aboard the American Importer; Arrived in Spain via Llansa on June 1, 1937; Served with the XV BDE, Mackenzie-Papineau BN; Rank Cabo acting Teniente; Killed in action August 10, 1938, Sierra Pandols, Ebro Offensive.
---
Sibling: brother Sidney Barsky;
---
Source: Inventory North Americans; RGASPI Fond 545, Opis 6, Delo 542 (name only); Opis 6, Delo 861, ll. 86 (ver ar gen amer); Scope of Soviet Activity; Cadre; XV BDE; BN 58 Retreats (?); Pay; L-W Tree Ancestry (alt. dob). Code A
---
Photograph: Ben Barsky, MacKenzie-Papineau, May 1938. The 15th International Brigade Photographic Unit Photograph Collection; ALBA Photo 11; ALBA Photo number 11-0220. Tamiment Library/Robert F. Wagner Labor Archives. Elmer Holmes Bobst Library, 70 Washington Square South, New York, NY 10012, New York University Libraries.