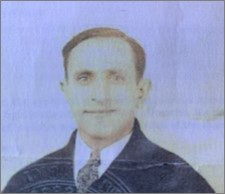 Biography
k- b. February 15,1906, Csowa, Poland, To the US December 12, 1923, naturalized November 12, 1930, Milwaukee County, Milwaukee, Wisconsin; Polish American; Received Passport# 390442 on April 14, 1937 which listed his address as 2338 North 16th Street, Milwaukee, Wisconsin; Sailed May 1, 1937 aboard the Statendam; Served with the XV BDE, Auto Park; Lincoln-Washington BN, Co. 3; Believed captured and executed on September 7, 1938, Sierra Caballs, Ebro Offensive.
---
Source: Scope of Soviet Activity; XV BDE; L-W Tree Ancestry.
---
Photograph: Benjamin Camnitz, Passport Photograph 1937.