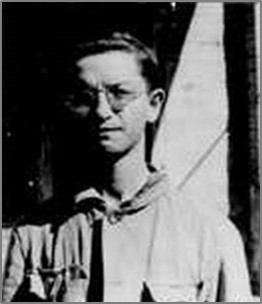 Biography
Kotler, Benjamin
(Kutler, Barnett Steve; Korson, Karl); b. June 12, 1915, Brooklyn, New York; Graduated from Brooklyn College,
summa cum laude
; Teacher; CP March 1938; Arrived in Spain via Massanet on May 15, 1938; Served with the XV BDE, Lincoln-Washington BN, Co. 3 (June) and Plaza Mayor (September); Rank Soldado; Returned to the US on December 20, 1938 aboard the
Ausonia
; Married wife Ida, daughter Judith; Worked for the United Electrical workers union from 1951-1984; d. December 25, 1994, buried in Mount Ararat Cemetery, East Farmingdale, Suffolk County, New York.
---
Sibling:
brother Louis Kotler.
---
Source:
Pay; Figueres List (under Kutler, Benett); RGASPI (under Kutler); (obituary)
The Volunteer
, Volume 17, No. 1, Spring 1995, p.5; Find-a-Grave 80632541.  Code A
---
Photographs: 
Benjamin Kotler in Spain, RGASPI Fond 545, Opis 6, Delo 877 & 928.
---