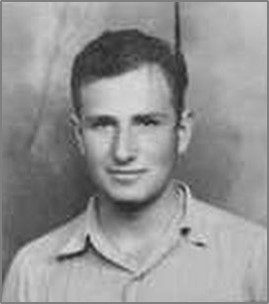 Biography
Levine, Benjamin.
(Lane, Benjamin);
b. April 27, 1916, St. Louis, Missouri; Attended the University of Southern California for 2 years, then the University of Illinois, Champlain-Urbana; Single; Aircraft Mechanic, Pilot, and Flight Engineer with Pan Am; Was a young pioneer, YCL 1930 and Spanish CP; Received Passport# 364778 on February 1, 1937 which listed his address as 1614 ½ Silverlake, Los Angeles, California; Sailed February 17, 1937 aboard the
President Roosevelt
; Arrived in Spain on February 27, 1937; Served with the 86th BDE, Various hospital and Evacuation groups, last unit Army of Ebro Sanidad, Evacuation driver; Returned to the US on December 20, 1938 aboard the
Ausonia
; WWII US Army Airforce; d. September 21, 2007, San Diego, California.
---
Sources:
Sail; Scope of Soviet Activity; RGASPI; (obituary)
The Volunteer
, Volume 24, No. 4, p. 21.  Code A
---
Obituary:
Benjamin Levine Born on April 27, 1916, in St. Louis, Missouri, to Leo and Sophie Azarch Levine, Ben studied at the University of Illinois, Champaign-Urbana for one year. He left school to follow his passion for flying and worked in the nascent airplane industry in St. Louis. In 1937 he joined the Abraham Lincoln Brigade in Spain and fought with the Brigade until 1939. He returned to Los Angeles, where he met Sylvia Eisenberg. Following a whirlwind courtship, they were married in 1939. During World War II, Ben served in the U.S. Army Air Corps. After the war, he graduated from the University of Southern California with a degree in mechanical engineering. He competed with the USC track team and became accomplished with the javelin. One of Ben's noteworthy engineering accomplishments was designing the tracks for rides in Disneyland, including the Peter Pan ride, the Jungle Boat ride, and the Mark Twain Steamboat ride. These rides all opened in 1955. They have been enjoyed by children from all over the world. Ben migrated into the healthcare field in the 1960's, managing health care and nursing home facilities for over 30 years. He was elected a Fellow in the American College of Nursing Home Administrators. He was a long-time advocate of better health care for the aged. He was also instrumental in developing a role for nurse practitioners and other allied health professionals in working with mental health and elderly patients in both in-patient and out-patient facilities. He opened a number of mental health care facilities in California. Ben was active in scouting in Whittier, California, and helped to run the Air Explorer Troop 939A for several years. Ben moved to northern California in 1970, where he frequently participated in Bay Area Post events. In 1986, he traveled to Spain for the 50th anniversary recognition of the International Brigades. Benjamin Lane, who went to Spain hoping to pilot planes in the Republican air forces and instead served on the ground with the Abraham Lincoln Brigade, died of pancreatic cancer on September 21, 2007, in San Diego, California. —Nancy Lane
---
Benjamin Levine Interview
, ALBA V 48-104, May 3, 1986, Manny Harriman Video Oral History Collection; ALBA VIDEO 048; box number 9; folder number 24; Tamiment Library/Robert F. Wagner Labor Archives, New York University.
---
Photograph:
Benjamin Levine in Spain, RA Fond 545, Opis 6, Delo 933.