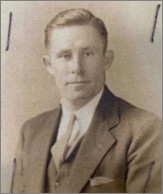 Biography
k-Doty, Bennett Jeffries
b. August 16, 1900 (1902), Faunsdale, Hale County, Alabama (Oak Grove); Father Lemuel Humphries Doty (1866-1962), Mother Margaret "Mell" Jeffries Doty (1878-1967); WWI joined the Tennessee National Guard, 55th Artillery Brigade at 16, AEF 115th Field Artillery at 17, later appears to have joined the Spanish Foreign Legion in the Riff War but left before his contract was completed; Returned to the US on January 9, 1922 aboard the
Baltic
; Enlisted in the French Foreign Legion on June 12, 1925 under the alias Gilbert Clare, and fought in Syria with the 29th Company of the 1st Regiment Légion Étrangère; Later deserted and was sentenced to death in July 1926, sentence was reduced to life in prison; Released after negotiations and returned to the US on December 20, 1927 aboard the
Majestic
; Attended Vanderbilt University in 1919, and the University of Virginia 1922-1925, Started law school at Tulane University in New Orleans in 1932, passed the Bar exam in May 1936; Single; Adventurer and Lawyer; Domicile Mississippi; Arrived in Spain via Massanet on March 4, 1938; Served with the XV BDE, Lincoln-Washington BN; Rank Soldado; WIA April 1, 1938, Gandesa, during the Retreats, (hit in the chest); He died in hospital on April 4, 1938.
---
Sibling:
brother Brother Lemuel Humphries Doty, Jr. (1903-1993).
---
Source:
BN 58 Retreats; Figueres List; RGASPI Fond 545, Opis 6, Delo 51, ll. 26; Wrote
Legion of the Damned
; "13 Americans Quit Fighting for Spain" New York Times, November 25, 1921; Jack Wagner "A Deserter Who Was Not Shot,"
The Literary Digest
, August 1, 1926; Jack Wagner "Doty's Wild Adventures in the Legion,"
Literary Digest
, January 21, 1928. L-W Tree Ancestry.com L-W Tree; Mon Legionnair, Wordpress.com. Code A
---
Bennett Jeffries Doty A Delayed Obituary
, By Chris Brooks,
The Volunteer Blog
, July 1, 2018.
---
Photographs:
Bennet J. Doty, passport Photograph, shortly after his return to the US after his discharge from the French Foreign Legion, circa 1928
The Literary Digest
; and during his time in the French Foreign Legion, circa 1926,
Legion of the Damned.
---