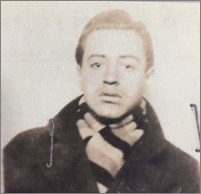 Biography
k-Abramofsky, Bernard (Aibel, Leonard; Abramowski); b. April 21, 1914, Brooklyn, New York (March 4, 1919); father Isidore Abramofsky (1891-?), mother Ida (1891-?) Abramofsky; ROTC 3 years and US Army 3rd Infantry, 21st BN, Philippines, Private 1934-36; College graduate; Single; Actor; YCL 1934 and CP 1936; Received Passport# 366744 on February 11, 1937 which listed his address as 726 Shepard Avenue, Brooklyn, New York; Sailed February 20, 1937 aboard the Ile de France; Arrived in Spain on March 17, 1937; Group Leader while in training at Figueros; Served with the XV BDE, Washington BN, Co. 3, Section 2; Collapsed at Brunete; Noted as shell shocked in first day of battle at Brunete; Poor record of work since never returned to line; Deserted from Tarrazona on November 10, 1937, Abramofsky and two other deserters, Rotter and Wallach, were apprehended at the U. S. Embassy in Valencia; Caught in the "Gestapo net". Returned to Garde Nacional jail where he was in January; Returned to the Lincoln-Washington BN after the Retreats; He was executed behind the lines in May 1938 as the leadership believed that he would be a threat to morale.
---
Siblings: brothers Sidney (1912-?), and Leonard (1918-?), and sister Selma (1924-?).
---
Source: Sail; Scope of Soviet Activity; Americans; Inventory North Americans; Washington; RGASPI Fond 545, Opis 6, Delo 849, ll. 3, Special List for Personnel Service, Deserters List of Those Now in Spain, January 16, 1938; Opis 6, Delo 855, ll. 28-29; USSDA 2:0376, 52-0381; ALBA 259 – Bernard Abramofsky Papers; Milton Wolff, Another Hill; Peter Carroll, Odyssey of the Abraham Lincoln Brigade, pp. 184-7; L-W Tree Ancestry. Code A
---
Photograph: Bernard Abramofsky, Passport Photograph, 1937.