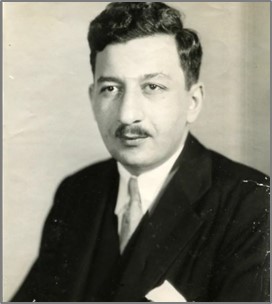 Biography
Ades, Bernard
b. July 3, 1903, Baltimore, Maryland; Jewish, father Harry Ades, mother Fannie Ades; Attended Law school; Married; ILD Lawyer; Candidate for Governor of Maryland in 1934; CP 1931 (1934); Received Passport# 367221 which listed his address as 1703 East Baltimore Street, Baltimore, Maryland; Sailed February 20, 1937 aboard the
Ile de France
; Served with the XV BDE, Washington BN, Co. 1, Commissar; Later with Lincoln-Washington BN, Company Commissar at Brunete; Later on Battalion Staff with rank of Teniente; Served at Brunete and Quinto; Returned to the US on September 30, 1937 aboard the
Normandie
; WWII Civilian; d. May 28 (27), 1986; Buried in the Baltimore Hebrew Cemetery.
---
Sibling:
Sister Rose Ades.
---
Source:
Americans; Inventory North Americans; Washington; RGASPI Fond 545, Opis 6, Delo 849, ll 19, List of American Comrades that have been Repatriated as per October 15 1937; Opis 6, Delo 855, ll. 44; ALBA 269 Bernard Ades Papers; (obituary)
The Volunteer
, Volume 8, No. 2,
p.14.
; L-W Tree Ancestry; Find-a-Grave# 53011769. Code A
---
Biography:
Bernard Ades was well known in Maryland in the 1930s as a defense lawyer for African Americans involved in criminal cases. He ran as the Communist Party candidate for governor of Maryland in 1934. Ades left the United States in February 20, 1937 as a volunteer with the Abraham Lincoln Brigade and arrived in Spain in March of 1937. The units Ades served with included the Washington Battalion and later the Lincoln-Washington Battalion. He also may have served as a commissar in the Lincoln Battalion. In the fall of 1937, Ades returned to the United States from Spain. He moved to New York City in 1941, and worked as a certified public accountant and a lawyer in the Federal Tax Court. His clients included the Communist Party and the Soviet trade organization known as Amtorg. - Courtesy of Tamiment Library, NYU.
---
Obituary:
Bernard Ades was born in 1904 in Baltimore, Maryland, where his father was an umbrella manufacturer and later a private banker. It was always assumed he would become a lawyer, and he did. He also rescued the family's bankrupt banking business and went on to become a successful attorney with a major Baltimore firm.
When the depression hit Baltimore in 1929 Bernard believed the system was hopeless and joined the Communist Party. His direct political activity did not galvanize the population. He ran for Governor on Maryland on the Communist Party ticket and received all of one thousand votes.
In 1931 as an International Labor Defense lawyer, Bernard represented several Blacks accused of crimes in Worcester County which became a cause-celebre in Maryland. According to Herbert Aptheker, important precedents were established on such matters as the need to change venue where local prejudice is established, the right of the accused to a lawyer of his own choice, and the illegality of excluding Black people from juries- but after three appeals, client Evel Lee was executed, and Ades had to defend himself (successfully) against a disbarring action.
In 1937, married, Ades was en route to Spain, orders hidden inside his necktie. In Spain he became a company commissar, under Colonel Markavitch and fought in the battles of Brunete, Villanueve, del Partido, and at Fuentes del Ebro.
In the Fall of 1937 Bernard returned home to the U. S. His father gave him a job running a store on 7
th
Street in the Black section of Washington. Bernard hired black salespersons and cashiers, unheard of in the mid-South in those days. Business boomed. His father, of course, fired him. Bernard next got a job as an auditor with the Federal Housing Authority. However, Congressman Del'Assandro o Baltimore found out. The scandal of a Communist in the government was aired in Congress, and by the summer of 1941 Bernard was compelled to resign.
With his new family Bernard moved to New York City and settled in the Sholem Aleichem Houses in the Bronx. Elected to the tenants executive committee he led the negotiations with the landlord and endeared himself to the neighbors. Due to FBI operation Cointelpro he was not admitted to the New York bar. His professional life was restricted to accounting and tax law.
In 1948 Bernard was again blacklisted, and his practice was hurt. Throughout the 1950's he helped others who were blacklisted, infuriating J. Edgar Hoover who directed the New York office of the FBI to "get him." He laughed at the FBI and the left wing remained his main clientele until he had his final stroke.
In 1960 Bernard married Dora Rubendine Ziebele and traveled with her to Scandinavia, to the mid-East, and as a government guest to East Germany and the Soviet Union. In East Berlin he saw George Ohlwerther Lohr, whom he had sheltered for a year in our home, and he heard first hand from a survivor of the Stalinist excesses in Czechoslovakia.
In 1963 Bernard joined Martin Luther King's March on Washington and began to work in organizing the Reform Democrats in the Bronx. He initiated the Bronx Dump Johnson campaign and was active in the anti-war movement. (He grew his hair long and a beard in the mutton chops style of the Emperor Franz Josef. He went on marches looking for a guru, and once I found him and Dora on a knoll in Washington surrounded by admiring students.
In 1975 he wrote me:
I think the lessons of Spain may be that no movement in which the ultra left is an important
part can defend democracy. Chile seems to indicate that.
The other part of the problem which did not surface in Spain, is that people who preface
Democracy with "bourgeois" have it in their minds to substitute the dictatorship of the
[Communist Party] for it. There really is no other kind of democracy except bourgeois.
Unless you want to go back to Plato.
---
Photograph:
Bernard Ades, still from Red Father a film by Tova Beck-Freidman.