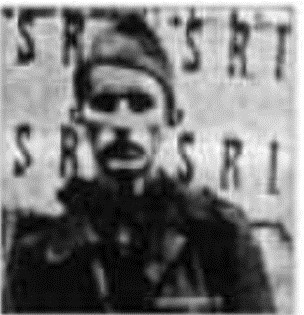 Biography
k-Singer, Bernard. b. April 22, 1915, Brockton, Massachusetts; Jewish; High School education; Single; Salesman and Draftsman; YCL 1931, Sect. Fin. Secretary; Received Passport# 434419 on June 5, 1937 which listed his address as 426 Amboy Street, Brooklyn, New York; Sailed June 12, 1937 aboard the Georgic; Arrived in Spain via Setcases on June 30, 1937; Served with the XV Brigade, Mackenzie-Papineau Battalion in training; Later with Brigade Estado Mayor, Transmissions; Rank Soldado; On September 27, 1937 Singer deserted and called at Valencia embassy seeking aid to leave Spain; Deserted May 8, 1938 was apprehended and returned to Brigade; Family last heard from son September 8, 1938; Rumored to have been WIA Sept 23, 1938 Corbera and taken to a base hospital; Officially reported KIA August 1938, Ebro Offensive.
---
Sources: Scope of Soviet Activity; Cadre; Figueres List; Mac-Pap; Pay; RGASPI; USSDA 2:09333, 60:0324.
---
Photograph: Bernard Singer, The Volunteer, Convention Issue, Volume 2, No. 1, June 1940, p. 23.