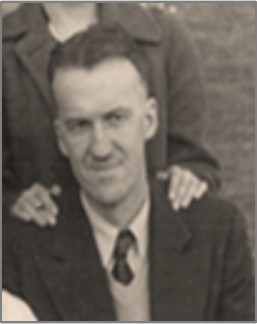 Biography
Baley, Bernard Vaughn
(Bailey, Barnald); b. August 5, 1910, Arnett, Oklahoma; Single; Clerk and Student; CP 1933, section organizer; Received Passport# 31387 San Francisco series on September 1, 1937 which listed his address as 1579 Stoddard, San Bernardino, California; Sailed September 25, 1937 aboard the
Laconia;
Arrived in Spain via Massanet on October 8, 1937; Served with the XV BDE, Special MG Co. attached to Estado Mayor; Served at Teruel; First Gunner on a Maxim; Sent to hospital after contracting bronchial pneumonia; After recovery went to the Mackenzie-Papineau BN; Served at Retreats; In May after another hospital stay for illness rejoined Mackenzie-Papineau BN, Co. 4; Served in Ebro Offensive; Returned to the US on November 5, 1938 aboard the
President Roosevelt
; WWII Merchant Marines; d. February 28, 2001, California; Wrote a book of poetry,
Hand Grenades
, with many poems related to his service in Spain.
---
Source:
Sail; Scope of Soviet Activity; Cadre; Figueres List; Inventory North Americans; XV BDE, RGASPI;(obituary)
The Volunteer
, Volume 23, No. 3, September 2001, p. 21; Barney Baley,
Hand Grenades,
L-W Tree Ancestry. Code A
---
Obituary
Barney Baley, born in Arnett, Oklahoma, died on February 28, 2001, after a long illness. An active member of the San Francisco Bay Area Post, he had served in the Merchant Marines during World War II and worked as a construction laborer afterward. After serving in the Lincoln Brigade, he returned to his home in southern California and wrote a book of poetry, titled
Hand Grenades
, that was published in 1942. The poems were both political and autobiographical, and we publish a few selections to remember this otherwise quiet man. The last poem was written in 1999.
---
Photograph:
Baley (bottom right). Photograph courtesy Barney Baley.
---