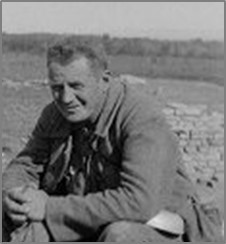 Biography
Thomas, Bleddyn Cynfyn
. ("Jack"); b. November 22, 1899, Caeran, South Wales, emigrated to the US, arrived July 3, 1923 aboard the
Franconia, 
filed for citizenship on August 20, 1923; Welsh; Father John William Thomas (1874-?), mother Jannett (Jennet) Thomas (1877-?); 5th grade education; WWI, served in the British Army, Coldstream and Welsh Guards, 2 years (1913-1915); Steel Worker, Coal miner, WPA; CP 1928 and YCL 1924, CP of Spain; UMWA (United Mine Workers of America), CA ILOOW, AFL; Domicile Pittsburg, Pennsylvania; Jailed In Allegheny County, PA for six months after being convicted of rioting, released 1934; Court action led to the cancelation of his naturalization request on June 27, 1933; A request to overturn the order was dismissed in 1934; Arrived in Spain over the Pyrenees June 1, 1937 or July 1, 1937; Arrived in Albacete on July 3, 1937; After training he was assigned to the Mackenzie-Papineau BN on August 5, 1938; Served with the XV BDE, Mackenzie-Papineau BN Co. 3 as adjutant commander at Fuentes de Ebro; Commanded the MG Company at Teruel and was promoted to BDE operations officer; During the Retreats he commanded Co. 1; After recovering from wounds he transferred to the 129th BDE, 3rd BN "Mazeric", Co. 1 on June 20, 1938, He served on the BN staff, From September 12, 1938 he was acting Captain and BN Commander before being wounded on September 19, 1938; Served at Fuentes de Ebro, Teruel, Segura de los Baños, Hijar, Retreats (Alcaniz, Hijar, Caspe), Pina Blanco, Pina Mareo, and Manzurgeco; WIA Caspe during a counter-attack on March 28, 1938, in hospital at Cambrils, Benicassim and Denia for a total of 3 months; WIA second time Manzanares (Torija-Lineres) during an attack on September 20, 1938, sent to hospital first in Military Hospital of Shelva, Valencia, and Denia through the end of 1938 at least; Rank promoted to Teniente for stopping a fascist attack in January at Teruel; Held in a French Concentration camp after leaving Spain; Attempted to return to the US but was unable to obtain re-entry papers, returned to Wales; Married Irene M. Thomas in July 1952, Hampstead, London, England; d. February 19, 1963, Stepney, London, England. Possibly used a passport under the name Manuel Goldberg.
---
Siblings:
brother Eluned Thonmas (1903-?), sister Maelgwyn Cyrdon Thomas (1905-?). [These may be reversed per 1921 census]
---
Sources: 
Mac-Pap; RGASPI Fond 545, Opis 6, Delo 1000, ll. 36-42; Ancestry L-W Tree.com.
---
Photographs:
Two unidentified volunteers and Jack Thomas after Fuentes de Ebro, October 1937. The 15th International Brigade Photographic Unit Photograph Collection; ALBA Photo 11; ALBA Photo number 11- 0769. Tamiment Library/Robert F. Wagner Labor Archives. Elmer Holmes Bobst Library, 70 Washington Square South, New York, NY 10012, New York University Libraries.
---