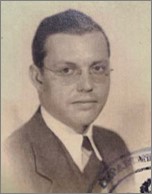 Biography
k-Orton, Carl Frederick Gutherz (Fritz); b. September 9, 1909, St. Paul, Minnesota; Father Forrest Hoy Orton (1869-1933), mother Adah Lena Hawkins (1869-1962); Graduated from Stanford in 1928, philosophy, member Theta Delta Chi Fraternity; Married Margaret Eleanor Tolderoy Lee "Peggy" (1906-?) in March 1928, daughters Nancy Lee Orton (December 26, 1928-1996) and Joanne Markell Orton (May 23, 1932-1999); Seaman, Clerk, and Bank Employee; CP May 1934, section Agitation and Propaganda, General Office Workers and Bank Employees Union, later became United Office and Professional Workers of America; Received Passport# 30818, San Francisco series on July 31, 1937 which listed his address as 2380 South Court, Palo Alto, California; Left San Francisco on August 11, 1937 and travelled to New York; Sailed August 18, 1937 aboard the Aquitania; Arrived in Spain via Massanet on August 29, 1937; Served with the XV BDE, Lincoln-Washington BN, Co. 1, Section 1 Commissar elected October 20, 1937; Later promoted to Co. Commissar replacing Ben Sills when he was sent to hospital on sick leave at Teruel; Rank Cabo; Reported MIA March 10, 1938 near Gandesa, during the Retreats.
---
Siblings: brother Mark de Forrest Orton (1901-1962), sister Joanne G. Orton Towle (1898-1972).
---
Sources: Scope of Soviet Activity; BN 58 Retreats; Cadre; Figueres List; RGASPI Fond 545, Opis 3, Delo 455, ll. 89-90; Opis 6, Delo 958, ll. 27-31, includes a letter from his wife inquiring about his disappearance in Spain and certified copy of his birth certificate; USSDA 2:0819, 58:0565; POW; L-W Tree Ancestry; Stanford Quad, 1927. Code A
---
Photograph: Carl Frederick Orton, Passport Photograph, 1937.