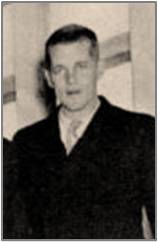 Biography
Belau, Carl Gustave (Karl); b. January 30, 1907, Valley Creek (St. Paul), Minnesota; German American; POW; Unemployed; No political affiliation; Received Passport# 465993 on July 27, 1937 which listed his address as 708 Reaney Street, St. Paul, Minnesota; Sailed August 7, 1937 aboard the Georgic; Arrived in Spain via Massanet on August 19, 1937; Served with the XV BDE, Lincoln-Washington BN; Rank Soldado; Served at Teruel and Retreats; Reported MIA Retreats; Captured March 10, 1938, Belchite; Exchanged October 8, 1938; Returned to the US on October 18, 1938 aboard the Queen Mary; Married to Blanche B. Belau; d. 1964, buried Evergreen Memorial Gardens, Mahtomedi, Washington County, Minnesota.
---
Source: Sail; Scope of Soviet Activity; Figueres List; Inventory North Americans; XV BDE; BN 58 Retreats; POW; Find-a-Grave#115667720. Code A
---
Photograph: Carl Belau from a photograph of returning POWs aboard the Queen Mary, October 8, 1938.