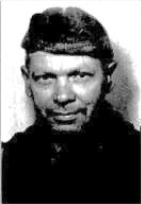 Biography
Fuchs, Carl Mayer (Mayer, Charles); b. January 5, 1882, Molsheim, Germany; To the US February 25, 1885, Naturalized July 1889; German American; Father Otto Mayer (1857-?), mother Susie Mayer (1858-?); 2nd grade education; Plumber; CP 1933 (1934); Domicile California; Sailed May 15, 1937 aboard the Georgic; Arrested on June 20, 1937 when the vessel he was traveling to Spain on, the Joven Teresa, was intercepted by the French aviso Granit near Port-Vendres; Arrived in Spain via Massanet on June 22, 1937; Returned to the US September 21, 1938 aboard the Ile de France; Wife Annie Meyer (1877-?); d. May 5, 1972 in Sebastapol, California, cremated and buried in Cypress Hills Cemetery, Petaluma, California.
---
Siblings: brother William Mayer (1891-?), sister Minnie Meyer (1891-), step siblings brother Otto Meyer (1883), sisters Annie Meyer (1877-?), Alice Meyer (1880-?), and Christina Meyer (1887).
---
Sources: Figuers List (under Mayer, Charles); RGASPI (under Mayer) RGASPI Fond 545, Opis 6, Delo 945; Joven Teresa list from a letter from Jean Massé to Jim Carmody dated November 30, 1988; L-W Tree Ancestry (under Charles Mayer).
---
Photograph:
Carl Mayer Fuchs (Charles Mayer) in Spain, RGASPI Fond 545, Opis 6, Delo 945.