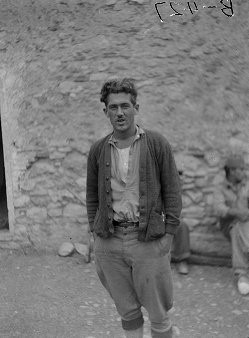 Biography
Syvanen, Carl Ralph
. b. March 2, 1912, Noaquin, Washington; Finnish American; Seaman; CP 1934; Domicile Astoria, Oregon; Arrived in Spain in April 1937; Served with the XV Brigade, British Battalion; Washington Battalion, MG Co. Section 1 and Lincoln-Washington Battalion, MG Co., Toivo Antikainen MG Section 21 men: Squad 1 Toivo Suni, Commander, Carl Syvanen, Yrjo Keinanen, Waino Hamalainen, Alexius Salo, Raisanen, Sulo Niemi, Pyhatalo and Tanttila, acting Political Commissar, Squad 2 Henry Buska also Section Leader, Matti Haukkala, John Viitaniemi, Kerkkonen, Anttila, Matti Maki, Huosionmaa, and Jussi Savikko. Squad 3 Frans Pakkala, commander of squad, squad included other nationalities, Nilo Kruth was MG section leader; Last commander of the MG Co.; Rank Teniente; Mackenzie-Papineau Battalion, Co. 1; Rank Sargento; Returned to the US on December 20, 1938 aboard the
Ausonia
; d. July 22, 1969, Washington, buried in Lewis and Clark Cemetery, Miles Crossing, Clatsop County, Oregon.
---
Sources:
XV Brigade, Pay; Washington; RGASPI; Find-a-Grave# 39020823; Finnish; MPE.
---
Photographs:
Corporal Carl Syvanen, Company 1, Mackenzie-Papineau, April 1938. The 15th International Brigade Photographic Unit Photograph Collection; ALBA Photo 11; ALBA Photo number 11-0184. Tamiment Library/Robert F. Wagner Labor Archives. Elmer Holmes Bobst Library, 70 Washington Square South, New York, NY 10012, New York University Libraries.; and RGASPI Fond 545, Opis 6, Delo 997; and Karl Syvanen and Henry Alfred Buska,
Meidän Poikamme Espanjassa
.
---