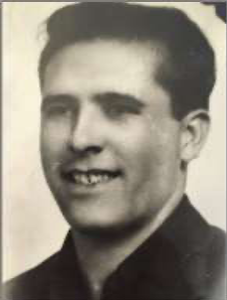 Biography
Diaz y Rodriguez, Serino. (Rodriguez Diaz, Certino). b. April 27, 1913, Morence, Pima, Arizona; Spanish American; POW; Father Manuel Palacio Diaz (1890-?), mother Carmen Alverez-Rodriguez; Minimal information is available in regard to this volunteer; Geiser notes that he is listed in the La Zapata Book of minutes and his name also appears in a New York Times article written by William Carney dated April 23, 1939; Returned to the US on August 17, 1939 as a stowaway aboard the Manhattan; Married Teodora C. Diaz (1910-2002) in 1942; d. September 12, 1988, Superior, Pinal, Arizona, buried in Fairview Cemetery, Superior, Pinal County, Arizona.
---
Siblings: brother Luis Diaz (1924-1979) and sister Pilar Diaz (1912-1981).
---
Sources: See La Zapata Book of Minutes (Geiser Prisoners of the Good Fight); L-W Tree Ancestry; Find-a-Grave# 74354175. Code A
---
Photograph: Serino Diaz y Rodriguez, Vickie Roberts with permission via L-W Tree Ancestry.