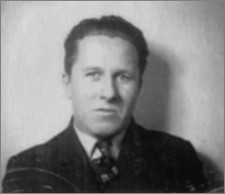 Biography
k-Fors, Charles A. b. September 2, 1905, Seinajoki, Finland; To the US October 1915; Naturalized September 23, 1922, Circuit Court at Sault Ste. Marie, Michigan; Finnish American; Father Matt Fors; Single; Laborer, Driver, and Auto Mechanic; CP 1930 and YCL 1922; Received Passport# 371454 on March 4, 1937 which listed his address as 291 Winder Street, Detroit, Michigan and Sugar Island, Michigan; Arrived in Spain on April 20, 1937; Served with the XV BDE, Lincoln BN; Later with the Auto Park; Transferred to the 86th BDE; Driver and Political Commissar (elected Political Commissar by his fellow Finns for his ability to find eggs); Later with the  XV BDE; Served at Cordoba and the Retreats; Killed in action March 10, 1938, Belchite, during the Retreats; Captured & executed driving supplies to the front.
---
Sources: Scope of Soviet Activity; Cadre; Finnish; MPE.
---
Photograph: Chales A. Fors, Passport Photograph, 1937.