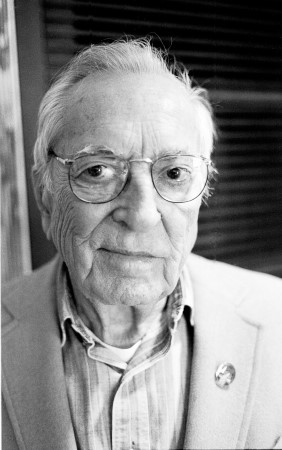 Biography
Hall, Charles A (Alfred); b. July 12, 1914, Canning, South Dakota; POW; Attended the University of Chicago; Single; Student and Clerk; YCL 1934; Received Passport# 469725 on August 11, 1937 which listed his address as 3919 Lincoln Avenue, Chicago, Illinois; Sailed October 20, 1937 aboard the Queen Mary; Arrived in Spain via Massanet on October 31, 1937; Served with the NCO school; XV BDE, Lincoln-Washington BN; Rank Soldado; Reported MIA Retreats; Captured March 10, 1938, Belchite; Exchanged April 22, 1939; Returned to the US on May 6, 1939 aboard the President Harding; WWII US Army, 843rd Anti-Aircraft BN, India-Burma-China Theater, Rank Captain; d. January 6, 2005.
---
Sources: Sail; Scope of Soviet Activity; BN 58 Retreats; Cadre; Figueres List; USSDA 2:0625, 55:0470; POW; (obituary) Jeff Balch, Peter Glazer, and the Hall family, "Charles A. Hall, 1914-2005," The Volunteer, Volume 27, No. 1, March 2005, p. 20; (obituary) "Charles A. Hall," News Leader, January 20, 2005 (online). Code A
---
Biography: After a boyhood in South Dakota, Charles Hall moved with his parents to Chicago's north side. He attended the University of Chicago, but the pressures of the Depression pushed him out of school and toward radicalism. He joined the Brigades in late 1937, sailed from New York to France, hiked across the Pyrenees into Spain, and trained at Tarazona de la Mancha. He saw his first action near Belchite in early 1938, but was captured soon after. For 13 months he was held as a P.O.W. in a converted monastery at San Pedro de Cardenas. He returned to the U.S. following a prisoner exchange in April 1939. He met Yolanda (Bobby) Farkas at Camp Lincoln, a progressive labor resort; they married in 1940. After Pearl Harbor, Hall volunteered for the U.S. Army to "finish the job" against the spread of fascism. He fought for four years in the Pacific Theater, attaining the rank of captain. After World War II, Hall worked for International Harvester, in Chicago, where he was a leader of his union. Attending the Illinois Institute of Technology by night—for seven years—he earned a degree and subsequently worked as an engineer for several Chicago companies. He remained very active politically during this period, on behalf of civil rights and peace, as well as labor. Upon retiring in 1986, Hall devoted himself more fully to causes of social justice. He founded and chaired the Chicago Friends of the Lincoln Brigade and spoke frequently at schools and community events. Last year he worked with Curie High School students who wrote and staged a dramatic presentation about the Spanish Civil War that won first place at the Illinois History Fair. (See The Volunteer, December 2004.) In a 1997 interview with ALBA board member Peter Glazer, Hall addressed the question of whether he was always sure he was doing the right thing while in Spain. He answered, "Oh always yes, I had no second thoughts ever, not even when I was in prison.…It takes a tremendous amount of failure and torture and so on to make anybody change their minds, anybody who's really convinced that what they're doing is right. You have contempt for your enemy, total contempt. I never felt any kind of compassion...because I felt that they had to know what they were doing." To those who knew him, it was a striking comment from a humble, gentle man. "Chuck Hall was part of an important era," said noted Chicago author Studs Terkel. "Now when we are suffering from a national lobotomy, he remains an example to a new generation about a commitment to democracy." Chuck Hall died in Forest Park, Illinois, on January 6, 2005, of pneumonia, following a fall that broke his pelvis. He was 90. - Jeff Balch, Peter Glazer, and the Hall family Resources: New York Times, A!, November 11, 1996, Marlise Simons, " Franco's Enemies Come Back, With Canes and Memories." --- Wife Yolanda "Bobby" Hall
---
Photograph:
Chuck Hall, by Richard Bermack.